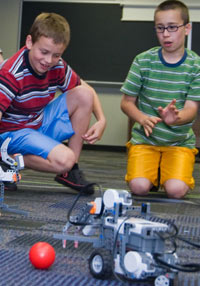 Robots made out of Legos!
A grey octagon of tape separates the children while they watch gleefully as their custom made robots search for red and blue rubber balls. These "ball hunters" are created using a mixture of light, sonic, sound, and touch sensors using the programming language NXT 2.0.
This "visual language" was invented by Carnegie Mellon, and licensed by LegoŽ Mindstorms, the arm of LegoŽ that designs robotics. By replacing numbers with pictures, it provides students of any age an opportunity to learn basic programming and engineering skills.
"It's really cool how fast they grasp these concepts," says Dave Elick, robotics teacher at Luzerne County Community College.
Other robots created during the camp included a scorpion which would whip its tail at any person in the vicinity using an ultrasonic sensor that is akin to radar because it detects distance and direction. Also, the students commanded the scorpion to move forward and backward using their voices.
"Their thought processes are neat to watch," notes Rich Schell, industry training coordinator at LCCC, who brought this idea from Penn State. "The kids don't even realize that they're learning because it's fun," adds Schell.
The students appeared to have a good time designing, building, and taking apart their Legos, all the while using their communication skills.
"This is nothing different than what is in industry," Schell says.
During camp, pointers were given about how to create more efficient robots by keeping weight over the tires, and moving the sound sensor as far away from the motor as possible. Also, the students were taught about gear ratios.
"This isn't just a game with toys, these are complicated robotics," notes Elick.
Lego Mindstorms holds local, state, national, and international competitions, where they build a "moonscape," a maze with obstacles created by Lego to be traversed by student created robots.
Luzerne County Community College offers a summer camp using the robotics aimed at kids age 10-14 years old. The robotics camp runs July 26 - July 30 from 9:00 am to 12:00 pm. For more information on the Lego Robotics Camp, click here.