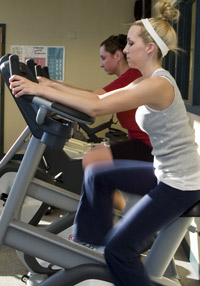 Exercise Your Body and Mind
Are you interested in science? Do you enjoy sports? Do you have a physically active life style? If so, an exercise science major could be the right choice for you. This physical, science-based field of study examines the effects of exercise and physical activity on people in order to optimize their physical and mental health. Exercise Science is designed for the student whose objective, after completion of an Associate, Baccalaureate and/or Masters' degree, is to pursue a career in adult fitness, sports conditioning, or health promotion.
"Exercise Science is not an easy subject," says Ed Gurtis, Associate Professor and department head of Luzerne County Community College's Health, Physical Education, & Exercise Science program. "It has a strong science background," he says. "In fact, the field of physical education was developed originally by medical doctors. If you like working with people and living an active lifestyle than exercise science can be a very rewarding program."
Students who graduate from this academic program gain professional preparation which enhances their employment opportunities. Graduates are personal trainers, fitness and health promotion directors for employee worksite and hospital-based fitness/wellness programs, exercise specialists for cardiac rehabilitation programs, exercise physiologists with sports medicine centers, strength and conditioning specialists for college and professional athletic teams, fitness and wellness coordinators with health clubs, YMCA's, resorts, hotels and government and recreation agencies.
Job markets in fields related to Exercise Science are expanding as our society continues to become more health conscious and aware of the benefits of fitness as a way of life. This curriculum offers courses that are also appropriate for students interested in pursing a degree in sports management, kinesiology, sports studies, athletic training, sport therapy, physical therapy, and therapeutic recreation.
Health, Physical Education, & Exercise Science program at LCCC offers an A.S. degree in Exercise Science/Fitness Leadership. Gurtis explains that the program has two tracks: one that concentrates on exercise science and the other toward a physical education instruction K-12. Exercise science emphasizes an understanding of the human body, lifetime fitness principles and training techniques, prevention and care of exercise-related injuries, nutrition, weight control, stress management, and otherbrelated lifestyles wellness topics. Students will learn to conduct fitness assessments and skills in the design, implementation, and supervision of individualized exercise and lifestyle change prescriptions. Exercise leadership development will focus on the acquisition of medically and biomechanically safe techniques in strength training, flexibility training, and cardiovascular conditioning.
Obesity in adults and now even children are rising to dangerous level. Diabetes and heart disease illnesses are also increasing at an alarming rate. Plus people are living longer and are in need of keeping an active lifestyle even into their golden years. Gurtis says high schools over the past several years have been cutting down their physical education offerings. "With the increase of health problems in our population," he says, "a stronger emphasis on a healthy and fit lifestyle is needed in our society." Gurtis believes physical education programs are becoming more prevalent and accepted again.
"I have the good fortune of coming to work each day knowing I am saving lives," says LCCC Associate Professor, Anne Holmes. "The ultimate goal of our program is to promote lifelong behavioral changes to a healthier lifestyle. We want people to maintain good health and do more in their loves." Holmes says it's frustrating to see 18 and 19-year-olds smoking and eating large amounts of fast food and knowing what they will be like in another 12 years. Many of our adult students in our exercise science programs can attest to that and often remind our incoming high school graduates to start now to maintaining a healthy lifestyle," Holmes says.
Luzerne County Community College has three full-time faculty, Ed Gurtis, Anne Holmes, and Ron Strothers, gymnasium supervisor and intramural advisor; plus 70 adjunct professors at main campus and at each of the college's off campus sites. Gurtis says Physical Education was one of the first programs offered at LCCC when it began 40 years ago. "All students at the college are required to take two credits of Physical Education. We are proud that LCCC has always recognized the importance of exercise science as a curriculum and as a necessary way of life."