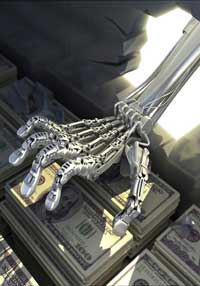 Cyber Security Program
You hear news stories everywhere concerning credit card numbers being stolen online and the wide spread of e-mail viruses. Cyber crime is one of the biggest threats to both individuals and businesses today. It seems that everything relies on computers and the Internet now - communication (email, cellphones), entertainment (digital cable, mp3s), transportation (car engine systems, airplane navigation), shopping (online stores, credit cards), medicine (equipment, medical records), and the list goes on. The need to protect these sensitive systems has never been more prevalent.
Bob Dushok,manager of internet and computer lab services at LCCC and adjunct instructor for the College's network security course, says cyber threats against individuals and businesses are growing quickly.
"It's huge," Dushok says. "You have to always be on guard and monitoring your systems."
Dushok says businesses and companies that utilize e-commerce can experience major monetary damages when disrupted by a cyber attack. "They can see loss of data, embezzlement, theft, disruption of services, and just plain embarrassment," Dushok says. "Having a company's website knocked down can cost a good-sized business millions of dollars in lost revenue," he says. "Plus, there's the loss of customers that occurs when a company touts itself as having secure commerce transactions and then has to inform customers that the site has been hacked into and their credit card information has been stolen."
Dushok says that there are many malware programs online intended to damage or disable computers and computer systems of individuals and businesses. Hackers send out these programs to attack computer systems and extract sensitive data. "Hackers use this information for identity theft," he says. "Others will pull information from a company to possibly sell to competitors or to cover illegal transactions." Dushok says hackers can slip into company computer systems quietly to take out bits of information slowly so they can continue data mining as long as possible.
Mark Rutkowski, a faculty member in LCCC's engineering department and cyber security instructor, agrees about the dangers of cybercrime.
"The security needs and priorities of business have long ago evolved from simply hiring a security guard and installing an alarm system," Rutkowski says. "Modern businesses have a huge investment in the virtual world of cyberspace. Businesses need professionals versed in a wide range of expertise and technology to protect this investment."
Rutkowski says the Cyber Security program at Luzerne County Community College was designed to meet the needs of industry to secure and protect their computer resources from internal and external threats and also how to respond appropriately in the event of a cyber attack.
"The Cyber Security Management Program at LCCC brings an interdisciplinary approach to fill training needs of this evolving field," he says.
"This program bridges the gap between technicians who work in information technology, company management, and law enforcement officials."
"The Technology and Criminal Justice Departments, along with elements of the Business Department, have pooled their resources to provide a curriculum needed by this new discipline," Rutkowski explains. Topics addressed in the program include physical security, electronic hardware security, software security, and criminal law. The Cyber Security Program will also prepare a student for further studies in areas such as information security assurance, forensic computer analysis, advanced cyber security and forensic accounting. One component of this program is computer forensics. This is the ability to recover files from a computer that could be used as evidence in criminal or civil trials. Digital evidence can be pulled from not just computers, but cell phones, GPS units, video games, mp3 players, digital cameras, and many other electronic devices that store information.
There are many ways criminals can hide evidence on digital devices and computers. Finding this information is very complicated and requires the technician to understand the complexities of how the systems work, the hardware and software used, and the ability to understand how files and information is stored. The cyber security technician must understand the laws dealing with computers and internet technology issues and how to extract information from computer hard drives, cell phones, and just about any other digital device.
Plus, the technician needs to know how the evidence collected would stand up in court and what is specifically needed to collect evidence for police. A divorce lawyer might even hire a cyber security technician to locate deleted computer files or e-mails on a couple's computer. Technicians are even used to pull information from computers damaged intentionally or burned in a fire.
Rutkowski says more and more companies are hiring information technology professionals with strong security training and computer forensics backgrounds. State and local police departments hire information technicians to complete criminal investigations.
Students in LCCC's Cyber Security Management program recently toured the Pennsylvania State Police mobile computer forensics lab. This $400,000 mobile lab is one of only two in the state. The mobile lab is designed to allow police executing a search warrant to do a preliminary analysis of computer and other digital media in order to determine its value in a criminal prosecution. The analysis is done immediately, at the location of the search. If the computer contains evidence, it is seized. Otherwise it is returned immediately to the owner. This allows innocent people to have their computer returned even before police leave the premises. At the same time, police do not have to inventory, store and protect property that does not have value in a criminal prosecution.
Rutkowski says this career is extremely important and relevant to most major companies who experience daily attacks on their computer systems. Triangulation, phishing scams, computer hacking, and identity theft are part of the cyber security technician's tasks to stop. "Spam issues alone are a major strain on computer systems," he says. "Over 90 percent of e-mail traffic to companies is unwanted spam and the volume of these e-mails must be monitored, sorted and handled."
The Cyber Security program at LCCC began as part of a 2+2+2 grant. Students can start the program at West Side Vo-tech, transfer to LCCC, and finish at Misericordia University. LCCC has also formed 2+2+2 partnerships with Columbia-Montour Career Technology Center and Bloomsburg University.
Courses in the program include:
Introduction to Criminal Justice
Criminal Investigation
PC Operating Systems Technology
Criminal Law
Microcomputer Architecture/
Multimedia Systems
Electrical Theory
Digital Circuits
Personal Computer Security
Systems Networking
Linux/UNIX Operating System
Technical Communications
Cyber Crime
Data Communications
Network Security Issues
Forensics Analysis in a Windows Environment