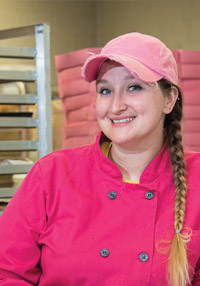 Blue Ribbon Degree
Throughout her childhood, Harveys Lake resident Kate Evans remembers her family often stopping into Dymonds Farm Market Bakery to buy "goodies". Never during her childhood, did she envision this place would lead to her career.
Evans and her mother, Cathie become interested in baking during her junior and senior years in high school. They enjoyed spending time together trying new baking recipes. Evans wasn't sure what educational path she wanted to pursue in college. She has a lot of family in the area and wanted to stay local. Evans says she chose Luzerne County Community College because of the low tuition rate and because LCCC is great for students who are unsure of their career path. "I really didn't know what I wanted to do and LCCC was very accommodating," Evans stated. "The counselors told me to try one class in this major and try one class in another other major. I did and, eventually, I found my niche."
Kate started with some education classes and broadcast communications classes. Then she took a baking class at the College and fell in love with it. "I'm a hands-on learner, and the class was completely hands-on," she says. "I started to love the idea of taking my interest in baking into a career."
Kate joined Luzerne's Pastry Arts program just as it moved into the new Joseph A. Paglianite Culinary Institute in downtown Nanticoke. "We had state-of-the-art ovens, cooking facilities, and lots of room to work and learn," Kate says proudly. "The instructors wanted everyone to learn and even have fun."
At LCCC, Evans learned many different skill sets and was encouraged to practice and try new things. "The faculty let us know if we were good at what we do, wanted us to succeed, let us be creative, and were always encouraged," she says.
"When I was attending LCCC, my stepdad asked what am I going to do with a baking degree. I looked at him and said I'm going to own a bakery one day in the Back Mountain."
Shortly after completing her Associate of Applied Science in Pastry Arts Management in 2011, she worked as an assistant pastry chef at the Westmoreland Club in Wilkes-Barre and sold some of her baked goods at the Back Mountain and Tunkhannock farmers markets. Evans started putting her baking skills to the test by entering her Swedish Apple Pie in the 2016 Luzerne County Fair Apple Pie Contest. She won, and finished within the top 25 contestants in Pennsylvania. She also won first place with her chocolate cake at the Bloomsburg Fair in 2017.
Then came the once in a lifetime opportunity for Evans. The Dymond family closed the Dymonds Farm Market Bakery at the end of 2016 after 34 years in business. They continued to run the farm market part of the business, but were interested in renting the space out for a bakery. "My mom has actually known Teddy Dymond, the owner of the store, for years so when they closed, my mother approached him and said my daughter and I are interested in running the bakery," Evans says. "We were told it's a lot of work and there were several others interested in renting. Eventually, the other inquiry fell through and he approached us again. My mom looked at me and said: ?Kate, we might as well do it. If you don't take a try at it, how will you know if you're going to fail or succeed?'"
On December 8, the bakery section of Dymonds Farm Market and Bakery officially opened again as "Dymonds by Kate."
"It was scary at first," Evans recalls. "But the people in the Back Mountain have been very supportive and the business has been doing very well."
Dymonds by Kate specializes in crumb pies, cream pies, sticky buns, fresh breads, specialty cakes, and soft-baked sugar cookies. "Our Swedish Apple Pie is our biggest seller," Evans points out. "We also won new and emerging business from the Back Mountain Chamber of Commerce."
So far, Evans' recipes have been drawing in business throughout the Back Mountain area. "Holidays, especially Thanksgiving, Christmas, and end of the year, are really crazy," she says. "Weekends are busy; people love our hot sticky buns in the morning."
Evans says her LCCC professors also taught to try new recipes and ideas. "We started offering old time candy, soups, and my mom started making home cooked meals. It really helps a lot of older people in the Back Mountain area." Evans says she recently sold 42 pieces of lasagna. "We receive calls weekly for her meals."
On the wall of the bakery, Evans has a large United States map showing where people have taken their baked goods. "A lot of people pick up our pies and sticky buns and have taken them to relatives and friends all over the United States. I need an international map now, because one of our customers took some of our pastries to Ireland."
Evans has some ideas for whipping up the shop's online and social media presence. She is planning a Facebook page, complete with short videos showing the bakers at work or explaining a recipe.
"This has been a wonderful opportunity for me," Evans boasts. "Never give up on your dreams. It took me a while to get myself started and I had to take a lot of chances. I want to thank Luzerne County Community College for the opportunity to develop my skills and help me believe in myself."