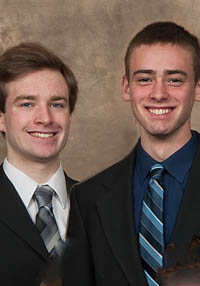 Faces at LCCC
Luzerne County Community College has many different faces. Some faces are young or old, new or from the past. These faces are of the people who walk through the halls and campus of the college. LCCC students come from many walks of life and each one of them has a different story of what brought them here to LCCC.
Sean Reilly, 19, is currently enrolled in LCCC. His major is General Education, and he plans to transfer to Pennsylvania State University to study History. "Penn State has a good history program I am interested in," he said. Sean is also the president of Student Government Association (SGA) and is very active in club and school events. He is part of the History Club and is the club's treasurer. Sean is a big supporter of getting involved in the community and his school. His plans to be a high school history teacher after college. "History is like a reality TV show, but better," he says.
Curtis Bates a 19-year-old cross country award winner and student at LCCC. He is planning to transfer to SUNY (State University of New York) Maritime College after LCCC. In addition to his studies, Curtis is involved in both sports and activities including cross country, is the SGA vice president, and is the student representative on the Board of Trustees. His success at LCCC has made Curtis a highly visible and resourceful asset around campus involving himself in both his studies and events. Curtis started at LCCC while still in high school. "My mother told me about the Early College program here," he pointed out. He started the Early College program at LCCC to get a jump-start into his college education before graduation. "The tuition was affordable and it was close to home."
Sean and Curtis are just two of the over 6,000 students who attend LCCC every year looking for great place to get a start toward a better career. Over 30,000 students have graduated from LCCC and either immediately start their career or continue their education at four year colleges and universities all over the country.
By Jennifer Kowalczyk, '16 Journalism/Media Writing