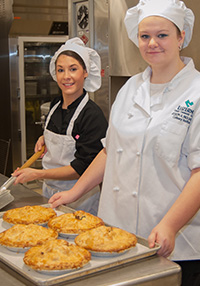 Pastry Arts Program
You have heard of the names Duff Goldman, and Buddy Valastro. These are just two of the many famous names who come to mind when someone hears the words baking or Pastry Arts. Pastry Arts to many people is believed to be easy. However, the technique you need to have to be in the field is more complicated to learn.
Pastry Arts is a combination of set skills to help a person make amazing pastries, like cookies, cupcakes, pies, cakes and more. "Pastry Arts is not just one part of baking, it has a much broader outlook and skill of baking," says Chef Richard Nemetz, Faculty - Hotel & Restaurant Management at Luzerne County Community College.
The Pastry Arts major develops skills and knowledge necessary to obtain entry-level employment in local bakeries, local restaurants, and resorts. "I recommend at least two years of schooling before going into the industry," says Nemetz. "It is difficult to learn the skills needed coming right off the street and into the industry. You need to learn the equipment and the style of how things are done in that specific job," Nemetz says.
There are a select few people who can or want to pursue Pastry Arts. "I think the people who are in or come to the Pastry program are perfectionists, creative, and passionate," says Nemetz.
In this program you learn many things that are useful in the workforce and not just baking. "You learn about every part of Pastry Arts, a little more each semester," says Nemetz. The students learn food safety and sanitation, work safety and psychology, restaurant management and much more to help them in the field. "Before I enrolled in the program I was only aware of the basics of pastries, but now that I am in the program I've learned about different types of pastries, different specialties along with different techniques used in the field," says Allison, a second semester student majoring in Pastry Arts.
Pastry Arts has a history of being compared to baking. Baking is a part of Pastry arts. With baking you make a treat. In Pastry Arts you make a treat and decorate that treat in a way that makes a person desire it more. Pastry Arts is also more about learning chocolate work, sugar work and much more than just cakes, pies, and cookies.
The Pastry Arts program lets students work with many different pieces of equipment that prepares them for the industry they will work in. "There are many different pieces of equipment from large rotating ovens to small pastry tips for cake decorating," says Allison. The students use all the equipment in different classes, all which are to help them in the future after college. "All the equipment you see in the rooms are used in the field, but the only difference from these and the ones in the field is that they are smaller here," says Nemetz.
The Pastry Arts program here at LCCC is a fun environment for many people to come and learn skills they love. Skills developed through this course will help develop the students for exciting careers as pastry arts managers and pastry chefs.
LCCC's Pastry Arts program helps student prepare for the skills needed in the field. In the pastry arts field you become a chocolatier, sugar worker, cake baker, candy maker, baker, pastry sous chef and a Master pastry chef.
By Jennifer Kowalczyk, '16 Journalism/Media Writing