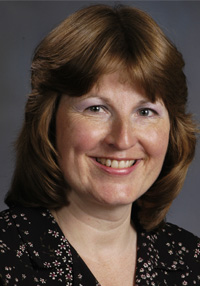 Choosing a career goal
Whether it's uncertainty over what major to choose or how to come out ahead in the job market, the counselors at LCCC's Career Services Office are familiar with the challenges students face when building a career. Any student, from prospective enrollees to graduates and alumni, are welcome to the resources, knowledge, and counseling available at the LCCC Career Services Office.
Mary Ghilani, director of Career Services, graduated from Penn State with a degree in speech pathology before obtaining a master's degree in counseling from the University of Scranton. "The joke in my family," Ghilani says, "is that I became a career counselor because I changed my major and my job so many times."
Having joined LCCC in 2000, she became director of Career Services in 2003 and has seen several changes in both the job market and the students she sees.
In addition to the typical high school graduates, Ghilani remarks on an increase in non-traditional students, from laid-off factory workers, to single parents, to retirees seeking to re-enter the workforce (also known as "encore students").
"It could be a lawyer who wants to teach young children," says Ghilani. "Someone moving from a hectic career to a slower one. These folks feel they have the opportunity now to fulfill their passion or their hobbies or have more meaning."
Meanwhile, younger students have adopted a "consumer mindset" in regards to selecting a major.
"They may be more hesitant to go into something like art," notes Ghilani. "People tell them they can't find a job. That's not necessarily the case, but there's more of an emphasis on going to school to find a job rather than going to school to pursue an education or something that students love or enjoy."
Other students are simply not at the right stage in their lives to settle on a potential career. Ghilani says that many young people don't understand themselves very well and decide on a career based on fads and television shows, such as the increased interest in criminal forensics caused by the popular CSI franchise. "It's a developmental issue," says Ghilani. "You don't see students until they have a problem."
Regardless of why students are unable to choose a major, Ghilani knows that it's a challenge that many young people face. "It's a process," Ghilani says. "They say that eighty percent of students begin undecided and the other twenty percent change their minds later on. It's the norm to begin undecided. Some know they want to work in a broad field, but don't know the specifics. I recommend anyone to have two broad options, then figure out what skills they have to work in those fields."
In addition to choosing their majors, new students should also think about building their careers well before graduation. Students planning on transferring to four-year institutions have another two years to participate in internships, service learning, and study abroad experiences. But for students who will seek employment after achieving their associate degrees, more needs to be done in less time.
"They should focus on doing things throughout their schooling to make themselves more marketable," says Ghilani. "Obtaining experiences that they can put on a resume to show employers what they can do - whether that's an internship or being involved in a club or activity - demonstrating those soft skills employers want, like being able to communicate and work in a team."
Besides knowing what employers are looking for, it's also important to know where they are looking. While most students have heard of potential employers cruising Facebook to find embarrassing profiles of potential hires, many aren't aware of the benefits social networking presents. According to Ghilani, more and more employers are turning to LinkedIn to find potential workers, and social networking in general can help students stay connected and engaged with their chosen field of work.
Technological advances in general have enhanced the way students find employment. Email is a convenient way for students to submit their resumes and receive feedback from the office, and close to 600 job announcements are posted online. Students who are too busy or distant from the main campus can consult the Career Cruising resource on the Career Services website for guidance on what field to work in.
LCCC also has a subscription to Big Interview, a website that allows a user to conduct practice interviews via webcam, which are then reviewed by others and replayed for the interviewee's benefit. Ghilani, who believes that students might not know exactly how to act when looking for work, suggests that students get all the practice they can get.
"Unless you've been in the workforce or on a search committee, you don't understand what employers look for," Ghilani says. "A good candidate will stick out like a sore thumb."
Although it's impossible to guarantee employment to any student, the Career Services Office is available to help any student at any stage in the process of starting a career.
"We are always willing to work with students," says Ghilani.
Click here for more information about LCCC's Career Services programs.
Story by Dinh Nguyen '14