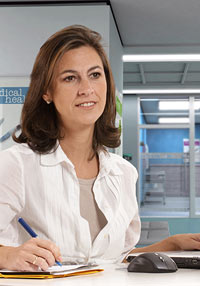 Medical Coding Specialist
One of the hot new careers in the workforce lately is Medical Reimbursement and Coding. Delivering quality healthcare depends on capturing accurate and timely medical data. Medical coding professionals fulfill this need as key players in the healthcare workplace. Luzerne County Community College offers an AAS Degree in Medical Reimbursement and Coding Specialist. The program is designed to build a sequence of medical reimbursement and coding-related courses to build the skills needed for employment in this field. Such skills include scheduling patients, preparing patient records, managing financial matters, handling insurance arrangements, and processing correspondence. The student is trained to assist doctors and patients administratively in physician's offices, clinics, and hospitals, laboratories or other health service areas.
Students who finish their degree in Medical Reimbursement and Coding will be able to follow ICD-CM rules and regulations and code accurately, follow CPT rules and regulations and code accurately, and use critical thinking and problem solving skills to address reimbursement and coding.
Medical Reimbursement and Coding Specialists typically do the following:
- Review patient information for preexisting conditions such as diabetes
- Retrieve patient records for medical personnel
- Work as a liaison between the health clinician and billing offices
- Review patient records for timeliness, completeness, accuracy, and appropriateness of health data
- Organize and maintain data for clinical databases and registries
- Track patient outcomes for quality assessment
- Use classification software to assign clinical codes for reimbursement and data analysis
- Electronically record data for collection, storage, analysis, retrieval, and reporting
- Protect patients' health information for confidentiality, authorized access for treatment, and data security
Although medical records and health information technicians do not provide direct patient care, they work regularly with physicians and other healthcare professionals. They meet with these workers to clarify diagnoses or to get additional information to make sure that records are complete and accurate.
The Medical Reimbursement and Coding Specialist degree offers students an opportunity to pursue positions as medical billing clerks, medical records clerks, coders, medical office assistants, medical office managers, medical application support specialists, health unit coordinators, and medical office support.
Nationwide, there is a shortage of certified medical coders in hospitals, physician practices, and other healthcare facilities. According to the United States Bureau of Labor, employment of medical record and health information technicians is expected to grow much faster than the average field. Medical records and health information technicians held about 179,500 jobs in 2010. Most technicians worked in hospitals or physicians' offices while others worked for the government.
Click for more information about LCCC's Medical Reimbursement and Coding Specialist degree