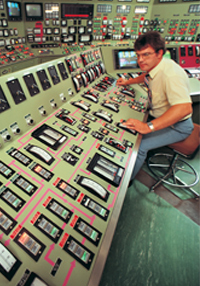 Going Nuclear
As the need for alternative energy increases, the need for trained technicians in fields like nuclear engineering technician continue to grow. In fact, the United States Bureau of Labor Statistics states employment of nuclear technicians is projected to grow by 14 percent from 2010 to 2020 because of greater demand for nuclear energy.
Nuclear engineering technicians assist physicists, engineers, and other professionals in nuclear research and nuclear production. They operate special equipment used in these activities and monitor the levels of radiation that are produced.
Because of the need for employees at nuclear facilities like the PPL Susquehanna Steam Electric Station located in Salem Township, Luzerne County Community College offers an Associate in Applied Science degree in Nuclear Engineering Technology. The program is designed to provide technically-trained personnel to support the nuclear power industry. The curriculum prepares students for employment as technicians in reactor operations, health physics and instrumentation and control, and also as maintenance technicians in a manufacturing or production facility.
Joshua Ridall, a student in the Nuclear Engineering program, enrolled at LCCC because of his interest in the nuclear field that he gained while working a refueling outage at PPL Susquehanna in 2008.
"My experience with the program was rewarding," he says. "I had really great instructors along the journey who were all very supportive and encouraging. Also, the smaller class sizes made it better for more student-teacher interaction."
Ridall plans to continue his education to at least the baccalaureate level, and is interested in working in the nuclear industry as either a Health Physics Technician, Health Physicist, or even an Instruments and Controls Technician.
Graduates of the program learn how reactors, turbines, generators, and water systems function together to produce electricity and understand concepts of nuclear core design, reactivity control and management in the nuclear power plant. Also, they are able to analyze analog and digital circuits and demonstrate test equipment, explain nuclear reactor operation, and radiation protection techniques commonly used in nuclear power plants.
Qualified students enrolled in this program may be considered for a work-cooperative practicum arranged with PPL Susquehanna. Graduates of the NET program who have successfully met all of the degree requirements will be well-positioned for available jobs in the nuclear industry.
Nuclear technicians typically:
- Monitor the performance of equipment used in nuclear experiments and power generation
- Measure the levels and types of radiation produced by nuclear experiments, power generation, and other activities
- Collect and test samples of air, water, and other substances for levels of radioactive contamination
- Instruct personnel on radiation safety procedures and warn them when conditions are hazardous
- Maintain radiation monitoring and operating equipment
- Use computers, gauges, and other instruments to monitor the performance of nuclear power plants under the supervision of nuclear reactor operators and engineers
- Base calculations on factors such as temperature, pressure, and radiation intensity to determine whether equipment is functioning properly
- Make adjustments to improve the performance of reactors and other equipment, such as opening and closing valves and electrical breakers.
Micky Marlott, another student graduating from the nuclear engineering program at LCCC, went to school on and off for a long time never knowing what kind of a career he wanted. He explains that he didn't originally intend on going into the field of nuclear engineering.
"It actually happened mostly by accident," Marlott says. "I was a certified pharmacy technician by trade for five years. Then I was laid off from my job. I heard LCCC was offering 12 free credits for anyone who was collecting unemployment at the time." He was told there is a large turnover rate from people retiring at nearby power plants and there will be jobs available. So he decided on enrolling at LCCC.
"What seemed like such an awful event losing my job turned out to be a great opportunity!" Marlott says. He is looking into continuing his education to obtain a bachelor's degree in Nuclear Engineering at Penn State University.