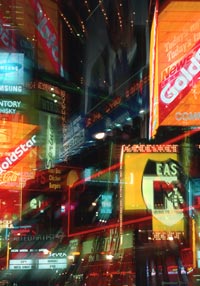 Hot Career: Advertising Design
The great thing about working in advertising is you get to be a Jack-Of-All-Trades, according to Jeremie Musyt, creative director, DeLuca Frigoletto Advertising Inc. and Luzerne County Community College graduate. "It's amazing what type of hats you'll find yourself wearing," he says. "One day you will be creative director, the next day you could be the copywriter or photographer. By the end of the week, you could be starring in a TV commercial."
Musyt also said that if he were to give advice to anyone interested in electronic media/advertising, it would have to be two things: "Be like a sponge and absorb everything from everyone around you, learning not only from other people's success, but more importantly from their mistakes." And two, "Network. Seek advice from those who can help you grow."
The Luzerne County Community College Commercial Art department helps prepare students to begin a career in the field of advertising. The College offers both an Associate in Applied Science degree and a Certificate in Advertising / Graphic Design.
The LCCC advertising curriculum is an occupational program that prepares students to gain employment in the field of advertising or help them transfer to a four-year institution. The program helps students gain knowledge in all aspects of the advertising world.
Students learn and are able to effectively demonstrate how to use all current computer applications used in the communication arts industry, create a brand, develop and design page layouts, and utilize all elements of practical communication, design and creative expression.
Students must earn 30 total credits for the Certificate in Advertising / Graphic Design or 65 total credits for the Associate in Applied Science for Advertising / Graphic Design. A large part of advertising is graphic design. Employment for graphic designers around the country is expected to grow about as fast as the average, with many new jobs associated with interactive media.
Ed Ackerman, associate professor in the LCCC Broadcast Communications department, says the most important thing to employers is showing them a professional portfolio of your work so student must spend a great deal of effort to organize their best work in a variety of mediums.
"There is no holding hands and no excuses once you're hired, just enforced deadlines," Ackerman states. He also points out that no matter what field of media you are seeking employment in you "might end up in advertising."
Employment of graphic designers is expected to rise as a demand for graphic design continues to increase from advertisers and computer design firms. Also, demand increases for design projects on interactive media, web sites, mobile phones, and other technology. Electronic media is here to stay and technology is continually evolving. Advertising is a competitive world and there are people who want the same job as you, so you must set yourself apart from the rest with something unique and professional.
According to Chris Vida, assistant professor in the advertising department, "The most important part of advertising is being able to develop a concept, using traditional advertising, but also being aware of new media outlets." In his courses, faculty teach hands-on how to use graphic design software like Adobe's Creative Suite. Your work is evaluated, revised, and assessed functionality to get your work how it should be. "These courses will not only teach you how to make a digital campaign for your portfolio, it will help you get one step closer to a career in the advertising world," Vida states.
Advertising/Graphic Design degrees