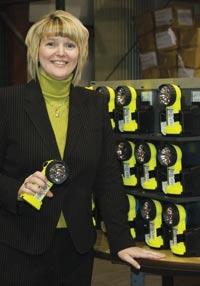 Alumnus lights her way to success
Seventeen hundred feet below the surface in West Virginia and five miles deep into a mine tunnel, the lights went out for Laurie Cywinski, '91. Cywinski and the miners around her activated their Koehler Caplights and illuminated the mine shaft. The miner next to her said, "this is why your products are so important to us."
"People count on our lights to get them through life threatening situations," Cywinski said. "We have to be the best."
Cywinski is Vice President of Finance and Administration at Koehler-Bright Star, Inc. Nestled inside the Hanover Industrial Park in Hanover Township, Koehler-Bright Star manufactures lighting products for mine safety and fire responder use.
Koehler manufactures rechargeable lighting products designed specifically for mine safety and is considered the leader in underground lighting technology. Bright Star Lighting Products, a unit of Koehler-Bright Star, Inc, creates professional-grade flashlights, lanterns, spotlights, batteries and accessories for the industrial and municipal markets.
Recently Cywinski became interested in her family history. She learned that many of her early ancestors were coal miners. "Now I work for a company that manufactures underground lighting for miners," she laughs.
But that was not her first dream. "Ever since I was little, I wanted to be a nurse," she said. Growing up in Nanticoke, Pennsylvania, Cywinski had always known LCCC's nursing program was well respected and enrolled. "I did well in my science classes," she said, "but once clinicals began, I started to rethink my career choice." Cywinski then chose the business curriculum and found her fit. "I thought I knew what I wanted to do. LCCC is affordable enough and offers many choices. It's a good start for anyone and a wonderful place to explore your career goals."
Cywinski started her education at LCCC in 1983, took some time off to work, got married, and eventually returned to campus to graduate with a Business degree in 1991. Cywinski continued her education at King?s College and Misericordia University.
In 1999, she started her career at Koehler-Bright Star as a controller. She quickly moved up to the vice-president position. "My job is to develop long term financial plans and strategies for the company," Cywinski said. "I work with budgeting, payroll, contract negotiations, legal issues with patents, and cash management."
Cywinski said her career is interesting because there is always something new to experience. "At Koehler-Bright Star, I've been able to travel all over the United States as well as to China, Germany, England and Australia," she said.
She still has an affinity for Luzerne County Community College.
Cywinski recalls her favorite class at LCCC was with Tony Wideman who has since passed away. "He made class fun," Cywinski said. "He taught us to think differently when writing business letters and not use the same old clichés. I still remember his lessons when I write a letter."
A member of LCCC's Presidential Alumni Advisory Council, Cywinski has the chance to tell others of her experiences at the College. "I am part of an effort with Bonnie Lauer, Alumni Director, and President Thomas Leary to get the message out to the area that we have many successful alumni who have made a difference in their careers and communities," she said.
Koehler-Bright Star recently made a major donation of flashlights to LCCC's Public Safety Training Institute. The company donated ten Lighthawk, 4-Cell Fire Lanterns designed specifically for fire fighters.
Cywinski also participates as a job shadow mentor for current LCCC students. Allie Bricek, an accounting major at LCCC, just finished the job shadow program with Cywinski. "She is excited about her LCCC education and deciding what future career she will pursue." Cywinski gave Bricek a good overview of the company and how accountants interact with the business. "It was also nice that she had a female executive as a mentor," Cywinski said. "We've become friends and I still check in on her on a regular basis."
Nursing students from the College have even presented health programs at Koehler-Bright Star. Cywinski said the employees enjoyed the smoking cessation and ergonomics lessons they learned.
Cywinski said she enjoys still being involved with the College. "LCCC came at an important growth point in my life and helped me get to where I am now," she said. "I'm glad to be able to give something back."