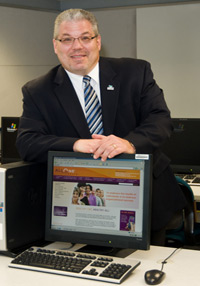 Always look for a challenge
Thomas Druby had choices.
As a member of the Abe's Hot Dogs family, Druby could have gone into the family business. Instead, his affection for electronics and gadgets led him to a career in computer information systems at Blue Cross of Northeastern PA.
The Wilkes-Barre native is responsible for the strategy of information technology needs of Blue Cross; which includes anything from infrastructure and security to the proprietary applications used in daily operations. He also handles contracts and negotiations with vendors. Representing over 140 employees, Druby helps build morale and leads team building efforts.
Druby credits his success to his education at Luzerne County Community College where he graduated in Electronics Engineering Technology in 1980.
"I originally thought that LCCC would merely be a stepping stone for me in my educational and professional future," Druby said. "However, LCCC provided me with the education and experience that has allowed me to grow... not only in my original profession of electronics technology, but to enable me to become the vice president and chief information officer of a national health services company."
Druby's career began in the electronics engineering field and grew into the computer programming field. He continuously worked his way through multiple management roles to the executive level after successfully completing a CIO Executive Development program through Perot Systems. Before working for Blue Cross, Druby spent eight years working as an engineer and consultant for medical and commercial jet engine equipment manufacturers.
"Most of us who graduated from LCCC in electrical engineering went directly into employment," said Druby, who landed a position as an electronic technician in Lansdale for five years.
"I always look for a challenge," Druby says. "You should always take the risk to better yourself." Druby and his wife left Lansdale in 1988 to return to northeastern Pennsylvania. In 1993, he was hired as a programmer analyst at Blue Cross of Northeastern PA
Druby credits the faculty who helped to mold him into a passionate electrical engineer. He specifically pointed out two people at LCCC who made a major impact on his life, Alvin Topfer and Joseph DeSanto.
"These two really influenced me," Druby said. "They had such an enthusiasm and interest about electronics that I also became caught up in my fascination of the field. Both Topfer and DeSanto were always there to answer any questions I had and opened my eyes to the career opportunities out there. They were truly my early mentors."
Druby stayed faithful to the College because he saw that professors at LCCC take an interest in their students.
"The College's environment is perfect for the first two years of anyone's higher education goals and it is right in your own backyard," Druby said. "I think there are too many people that look outside the area for their education and overlook the value and quality that LCCC has to offer."
The education Druby earned at LCCC not only secured him a satisfying career, but he also served on several technology boards including The Great Valley Technology Alliance, The Innovation Center at Wilkes-Barre and the Penn State University IST Advisory Board, and LCCC's CIS Advisory Board.
Druby is actively involved in the United Way where he has served on the board as well as chairing multiple allocation committees. He also currently serves on the LCCC President's Alumni Advisory Council.
He has been participating in LCCC's Job Shadowing program where he hosts students in the CIS program. Numerous students have experienced valuable "hands-on" learning opportunity at Blue Cross through the guidance of Druby.
Druby's advice to students entering the technology field: "Learn people skills. Understanding computer programming and network skills in the field is important, but technology people need to build relationships and communicate well with other individuals in an organization to truly be successful."