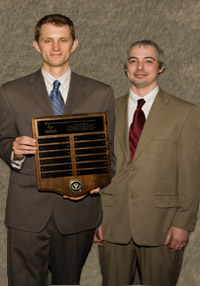 Web Entrepreneurs
Jason Gogola and Tim Martarano work towards entrepreneurial success with the knowledge and relationships they forged during their time in LCCC's Web Development Technology program.
Tim Martarano's story begins like most, as he put it: "I was unsatisfied in my career at the time and knew I had to be proactive about my future, I knew I needed skills relevant to that future."
When Tim found one of LCCC's displays for the Web Development Technology program he said he found a career path that would be a perfect fit. "Taking that step to put my life on hold for two years wasn't an easy one, but I was confident in the return I would be able to take away", said Martarano. With his long time interest in computers and seeing the success his wife found in the programming field, who graduated from Luzerne County Community College in 2002 with a degree in Computer Information Systems, Martarano enrolled and started classes in 2007.
He explained how a two-year school was ideal for his situation, and LCCC had the right program. "Attending LCCC was a great benefit to my life," Martarano said. During his time in the Web Development Technology program, Martarano met Jason Gogola. They both shared many classes together and a common interest in website design and development.
Gogola, a former computer application developer, returned to college enrolling in the Web Development Technology program looking to expand his programming skills and talents to the world of the Web.
"The web is an exciting place right now and I want to be a part of it," Gogola said. "It not only allows me to be both creative and technical in my daily work, but the freedom of the Web means that if you have the right skills, ideas, and determination you can make or find your own opportunities."
Gogola took finding opportunities to heart while attending LCCC. He helped design and develop the new website for Luzerne County Community College and also sought out a project with the college to create a Flash driven online virtual tour of the campus.
Martarano and Gogola remained friends throughout the program, taking classes and developing a great working relationship through helping each other. Both mentioned how impressive they thought the class selections were and the appreciation they had for the attention their professors gave them. Gogola said of the classes, "combined with my past experiences these classes gave me a complete set of skills to take on any website project." Martarano emphasized, "The teachers we had were not only knowledgeable but motivated us to always want to go beyond what we were doing in the class room."
In last semester of the program their final project was to each put together a website for a local business and present in front of a board of judges. "The final presentation was the best part," said Gogola. "It was very challenging, but a welcomed pressure to really bring together all that we had learned," Gogola added. Gogola won the award that night for best website which he created for West Side Career and Technology, and Martarano placed an impressive second for his Braces' Horse Stables' website.
Gogola and Martarano successfully completed the two-year program at LCCC and were the part of the first graduating class of the Web Development program.
Recognizing their passion for the Web, the great working relationship they formed, and the confidence in their working knowledge of website design and development, Gogola and Martarano easily decided to establish their own firm. "It was my hope when I started the Web program to come away with the confidence to start my own business, and that is exactly what I found at LCCC." Martarano added, "Starting this business is the best outcome I could have imagined when I started, the success we're finding is very exciting."
The business Gogola and Martarano started is Creative Sum LLC, which specializes in website design and development for local business and persons in NEPA. Creative Sum immediately began taking on their first clients and has been growing steadily since.
Both agreed the way businesses need to reach out to the next generation is through the Internet. Gogola said "Creative Sum helps local businesses create a modern website that helps present their brand, products, and messages in way that interacts with today's savvy online customers." Martarano explains, "It's more natural today for people to search and expect to find information on their local needs, and getting found in the crowded Web is a big challenge we help local businesses overcome."
"The Internet is absolutely the way things are going and the Web itself is maturing, it's going to take skilled and talented professionals to get results for those who need to focus their attentions on the core of their own businesses," said Martarano. He also pointed out that the Web Development Technology program gives students this knowledge to understand and create that online interaction between businesses and consumers.
"What Tim and I provide through Creative Sum are fully customized web solutions with modern design, friendly interactive functionality, and search engine visibility that produces results", Gogola said. "We work with businesses with a project management style that helps guide those who need it, or execute with precisions for those with specifics."
"The Web Development program and its faculty at LCCC gave Tim and me the confidence to start our business," said Gogola.  "We look forward to the day we can take on interns from same curriculum that gave us our start; we know they'll be ready."