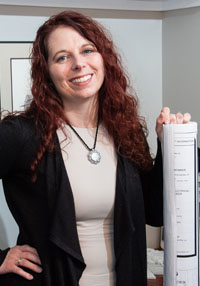 Good Foundation
I always wanted to be an architect," says Kimberly Rosentel ?06. "My dad worked in construction during the day and worked at a factory at night. As a little girl, I would sit and watch him sketch up building additions he was doing for people." Rosentel was fascinated by how her father configured square feet for roofing and worked out the quantities of material he needed for a project. She mimicked her father by sketching her own buildings and houses.
"I would go with him to job sites," she says. "My dad would give me scraps of whatever he was building, whether it be drywall, little pieces of wood, nails and screws, and I would create all these projects like birdhouses, sculptures, and things like that. Some kids liked Toys "R" Us, I liked Home Depot." However, Rosentel didn't follow her interest path immediately. After high school, she married and went to work at Nesbitt Hospital employed as a transcriptionist for a pathologist. Shortly after working at Nesbitt, she had her first child. "While I was at home, we decided to remodel the house," Rosentel says. "I was working on hardwood floors, ripping out the drywall, redoing the walls down to the joists, and I was loving doing it. It was at that moment I told my husband that I wanted to go back to school for architecture." Rosentel says when her son was a baby, she was thinking of going to school, and when her daughter was born she decided to look for a school offering architecture. At the time, there were no other colleges locally which offered the program as a major except for LCCC.
"Luzerne County Community College gave me the opportunity to earn a degree," she says. "I wanted to at least earn an associate's degree." Rosentel attended classes at Luzerne in the late ?90s, while caring for two young children, Ellie and Ethan. On top of this, her husband Jack, who had just completed his degree in electrical engineering at LCCC in 2001, was continuing his education at University of Scranton. "We were both in school at the same time, and would swap watching the kids at night," she recalls. "To this day, I don't know how we did it. I would put the kids to sleep, stay up until one o'clock in the morning, and wake up a few hours later at six. Jack would deal with the kids, while I worked on school projects over the weekend. It was really hard, but I found out really early in life, if you want something bad enough, you will make it happen. If you don't, you make excuses."
"Luzerne County Community College definitely provided me with a great design background," she says. "The classes they offered through the program prepped me for my work at my firm and for my licensure as well. The Architecture program at Luzerne is a perfect feeder program. During her licensure tests, Rosentel often came across questions and techniques she learned in her classes.
"The AutoCAD is an essential program," Rosentel says. "The design classes were also very valuable. They opened up your mind as to how things could be put together." AutoCAD is computer-aided design (CAD) software that architects, engineers, and construction professionals rely on to create precise 2D and 3D drawings. "When we see graduates from other schools, they don't have the same design background. They may have the technical background, but don't have the same imagination."
Rosentel says all the classes she's taken touch what she does in her career. "I loved the model building in LCCC's architecture classes," she says smiling. "That is a great hands-on way to show off your design." Rosentel says model building comes in handy especially when you have a very abstract building with crazy roof lines. "I will build a small replica design to play with to figure out how to make the roof work." She remembers the structures class as also being very helpful. "It's great if you can come up with a great design or drawing, but you also need to understand what materials are feasible to make it actually work. This field requires a lot of math and physics that architects need to know in their jobs."
Rosentel had just started working part-time with Murray Jay Miller Architecture in Wilkes-Barre in 2004 while working on her Architecture degree. After graduating from Luzerne in 2006, Miller and Rosentel found that the state of New York offered a pathway to earn Rosentel her licensure while working as an apprentice under Miller. She had to put in many hours and practice in various architecture disciplines. Rosentel went on to receive her NCIDQ (National Council for Interior Design Qualification Certificate) in October of 2010 and then later completed the Architecture Registration Exam in June of 2017. She is a licensed architect in the state of New York. Every time Rosentel passed a test to earn my license, I added a letter to the ARCHITECT sign on her wall. "It was really satisfying to place the last letter up there," she says proudly as she looks at her sign. Rosentel is now principal and partner with Miller.
Rosentel has been working toward finding new clients and business opportunities for the firm. "We're a small firm, but we push out a lot of work," she says. "A lot of people in the area know us." The firm's original focus was on shopping centers, but through the years, they have expanded their business to include medical centers, restaurants, warehouses, office buildings, and residential units.
"I enjoy working on projects that are really unique." She says. "One of my favorite projects was designing Ruth's Chris Steak House in the Mohegan Sun Pocono. That was a fun project playing with different materials to create that space."
Rosentel is also working on a modular project in Port Chester, New York. The project is a 34 unit, 55 plus building, with individual modular units that stack and fit together to create a building. "It's like putting a puzzle together and I really enjoy puzzles," Rosentel says as she points to the 3D building puzzles that adorn her offce. "I had to squeeze as much as I can within a confined space and meet the requirements and guidelines to make it work."
"This field can be really rewarding," she states. "I love what I do. If you go into this field you have to really love doing it. You have to like math, geometry, fractions, and physics. It's not just drawing a pretty picture; you still have build it. You have to enjoy the art side and the technical side. You have to make sure the structure looks great and is structurally sound. You have to incorporate information and advice from mechanical, structural, HVAC, and civil engineers with your project. You need to know where items like air conditioning units, plumbing, electrical lines, sewer pipes, windows, and where they need to be placed." Rosentel says restaurants need more air conditioning and pizza ovens need to have a strong structure to ensure the floor can support the weight.
"It's like anything in life,' she says. "You start from your foundation and build on it. That's what Luzerne County Community College was for me: my foundation that I built on."