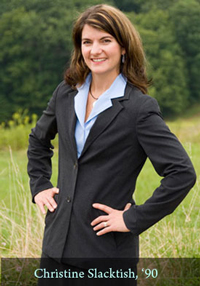 Country Girl Crosses the Big Pond
Christine Stevens- Slacktish '90 knew she wanted to go to college, but felt it would be difficult to afford. "I'm a country girl," she says. "I started working on the family farm at age 8 and we had to work hard for every cent," she recalls. "I even sold sweet corn to help buy my school clothes."
Slacktish was always interested in law and believed her career path would be in that field. "Law can be applied to everyday life, and at the time I didn't know exactly where it would take me," she says.
Her choice took her from her family's farm in Mehoopany all the way to England and back again to the Wyoming Valley.
As she started to look for a college, Slacktish quickly found Luzerne County Community College to be the school she needed. "It was affordable and LCCC gave me the start I needed to find my direction and earn my degree," she says. "I love the college," Slacktish remarks. "The professors were so easy to talk to. English wasn't my strongest subject, but the faculty assisted me and gave me an appreciation for the subject."
But it was her involvement as vice president of the Student Government Association (SGA) that really changed her life.
"The president of the SGA was supposed to speak before the freshmen and wasn't able to attend so I had to give the speech. I recounted my experience in choosing a college, how the professors are here to help the students, and how much I enjoyed my education at LCCC."
Then President Tom Moran told Slacktish that he enjoyed her speech and she began to discuss with him her plans for continuing her education, possibly at Susquehanna University or Wilkes University. Moran successfully nominated Slacktish for the Rotary International Ambassador Scholarship, which selects one student as a representative from 17 local colleges and universities.
At the same time, Slacktish was finishing her two-year Paralegal degree at LCCC and was ready to pursue her bachelor's degree. Her role with the Rotary scholarship was to attend a college in England and educate various Rotary Clubs and students about America. She chose to enroll at the University of Buckingham. "I enjoyed traveling around the country and attending school with people from 70 different countries. I learned how students and faculty from other countries saw America from the outside."
Slacktish stayed an extra year in England to earn her Bachelor of Law degree and then returned to the United States.
Today, Slacktish resides in Dallas with her husband, Michael, their daughters, Madison and Bailey, and their horse, Jade. Christine ran her husband's business, Heritage Mortgage Group, for several years. She recently accepted a new position with Misericordia University as Director of Financial Services Education and Outreach Project.
Slacktish graduated from LCCC in 1990 with a Legal Assisting (Paralegal) degree. She always speaks highly of LCCC noting, "Luzerne County Community College gave me some of the best years of my life."