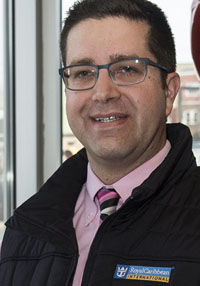 High Seas Meets Higher Education
Carlos Alcantara '12 stands on the upper deck of the world's largest cruise ship, Royal Caribbean's "Symphony of the Seas," and admires the vast technical marvel as it transverses the Atlantic Ocean.
Alcantara and his family are aboard the company's newest cruise liner as the ship heads to its destination in Spain. But this isn't just a family vacation for Alcantara. He's actually on the job, learning about all the amenities and details of the ship as he heads to a global sales summit in Spain.
"I am allowed to bring my family with me and get to know the ship and interact with the activities and events as we travel," Alcatara says. "The ship can hold 6,680 passengers and nearly 3,000 crew members. The numbers are mind-blowing and the events and activities on the ship are amazing. There is a lot of fun aspects of this job - but a lot of work is involved also."
Alcantara is a strategic account manager for Royal Caribbean Cruises Ltd. "I have a $10 million goal this year that I have to attain," Alcantara states. "I handle the eastern region of Pennsylvania and I'm responsible for growing those numbers. As the strategic account manager for Royal Caribbean, you are the face of the company, representing the cruise line in the area." Alcantara is also acting as the business development and district manager and provides leadership to travel agencies and guiding them in what they need to do to grow the business. He is responsible for relationship management, sourcing, growing and maintaining travel agency annual sales.
"That does require a lot of driving around," he says. "My car is my office, complete with my laptop and phone. I stay overnight occasionally. I provide ship tours for travel agents and give a lot of presentations at consumer shows."
A consumer event for Royal Caribbean could be a booking show or informational show. These are shows designed for those new to cruises or for people who want to learn about a new ship.
Alcantara handles a great deal of travel agent events. "I make sure they have all the promotional items they need, whether it's brochures and flyers," he points out. "I will also help agents set up the events with potential travelers so they are aware of all that Royal Caribbean provides."
Alcantara immigrated to Pennsylvania from Peru with his mother 17 years ago when he was 17 years old. He did not know the English language at the time, but now speaks three fluently: German, Spanish and English.
He worked for awhile after graduating from Hazleton High School and started at LCCC when he was 19. "I took three semesters there at first, hoping to go into international business, then not being really mature yet and wanting to experience life right away, I left and worked multiple jobs in factories, manufacturing plants, and restaurants in the area," he says. After working for 10 years in various places, Alcantara wound up at a call center. "But I had difficulty making a good salary as a bilingual customer service rep and wanted to go farther."
He decided to return to Luzerne County Community College. "The college has a great reputation, was close by, and cost effective," he says. "I was also an older student and knew the College has a renowned program geared toward returning students." Alcantara was in his 30s when he started back at LCCC in 2008. Growing up, he was always around different cultures with different foods which piqued his interest in the hospitality field. Alcantara enrolled in LCCC's Hospitality Management program. He credits his culinary instructors James Phillips and Sal Shandra for helping with skills in culinary and events management. In addition, his classes in business law and computer skills have helped him tremendously in the career path he chose.
As a student, Alcantara earned academic scholarships including the Edelstein Award, Chef's Association Award and the Brian J. Hogan Memorial Scholarship. He was a member of the Phi Theta Kappa honor society and received the Hotel & Restaurant Management Award for outstanding performance and significant contribution to the college. In addition, Alcantara enthusiastically worked to reestablish the Hotel & Restaurant - Travel Tourism Club and was elected president of the organization. He assisted at the culinary open house programs and was involved with many of the department?s fundraising events.
After graduating with his Hospitality Management degree in 2012, Alcantara looked at a career as a hotel manager. "I worked at two hotels in Florida after college, but didn't feel I fit in well in that occupation," he recalls. "I couldn't put in the time needed to work my way up in the field. So, I went back to my roots in the call center world and found a job with Royal Caribbean." Alcantara quickly escalated within the company, moving into business development roles to his current position.
"LCCC helped me with time management and how to prepare for an event," Alcantara says, "like making sure I have the right equipment, facility, and internet access for a presentation. Plus, management and software classes, public speaking, the hospitality classes all helped prepare me. Hospitality is an exciting and fun program and it's a business program. You have to have a passion for this and love doing your job."
Two or three times a year, Alcantara travels on the various cruise ships in the Royal Caribbean line to multiple destinations including Canada, St. Martin, St. Lucia, Barbados, Alaska, Puerto Rico, St. Thomas and more. "I'm getting to learn about a lot of places I need to talk about in my job," he says. "That's the fun part of what I do," he chuckles.
"What's amazing about a cruise line is that they are floating cities and therefore require every single type of a career and education you can imagine," Alcantara mentions. "These ships need physicians, nurses, chefs, managers, entertainers, sales people, security officers, welders, architects, engineers, photographers, broadcast technicians, electricians, actors, lawyers, marketers, meteorologists, clergy - pretty much everyone you can imagine. The newest cruise line even has a garden that requires horticulturists to maintain it"
Alcantara, his wife, and four-year-old daughter are living in Hazleton, which is a central base for the territory he is responsible for. He is currently working on a Bachelor's Degree in Hospitality Administration/Management through Florida International University. He stresses Luzerne County Community College is one of the strongest bases that he built that helped him achieve his current career position. "LCCC made a big difference in my life," he says, "The teachers and school believed in me. I don't know where I would have been if it weren't for Luzerne."