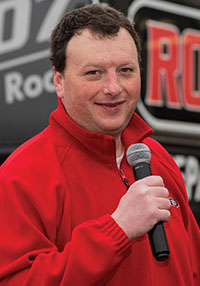 Hard Work and Hard Rock
An on-air personality and promotions director at Rock 107, Mark Hoover '99 is the embodiment of the radio station. "I am the guy who works longer hours than practically anyone else at Rock 107," he states. "I put more events together during any given month than most people can even fathom attending in a year."
In addition to hosting the on-air afternoon shift from 3:00 to 7:00 p.m., six days a week on Rock 107, Hoover is also the station's Promotions Director.
"I handle a lot of event planning," he says. "Just recently, the station participated in the cardboard derby at Montage Mountain and floats in the St. Patrick's Day parades in Scranton, Carbondale, Pittston, and Wilkes-Barre. I created sales and marketing kits, started working on Rock 107's 38th Birthday Bash, booked Warrant to play, designed the tickets, wrote the press releases, hired the sound company, rented space at the Woodlands Inn and Resort, and scheduled events to give out tickets." Other tasks Hoover manages include contests, concert announcements, website maintenance, and even billboard sales. "I definitely stay busy."
Being a radio personality and promotions person wasn't Hoover's first ambition. "I wanted to be a chef," he says. "I was a dishwasher at a local restaurant and became fascinated by the working environment of the cooks there." Hoover had been taking some basic classes through Luzerne County Community College at a satellite location in Pittston. "I looked at LCCC's Culinary Arts program because it is so well regarded in the area."
However, Hoover's education and career path became altered after a walkthrough of Luzerne's Technology Center. A music lover for much of his life, Hoover happened to walking past LCCC's student radio station WSFX. He saw a sign in the station's window that read 'Looking for radio disc jockeys. You do not need to be a broadcast major. See Ron Reino.' Hoover immediately found Reino and landed an on-air shift on Saturday nights at the College. "I was always into music, I spent all my money and hours at Joe Nardone's Gallery of Sound. I was a metal head as a kid with Guns & Roses and Metallica posters all over my walls."
Hoover never wound up going into the Culinary Arts program, but kept taking more and more broadcast classes. "The faculty gave you a great understanding of the broadcasting business," he says proudly. Some of the faculty Hoover took classes with in the late 1990s included Ron Reino, John Monick, Tom McHugh, Andy Petonak, Ed Ackerman and Kathy Bozinski. "I run the internship program here at the station, and I see so many students from other colleges who have never stepped foot in their school's radio station," Hoover mentions. "As soon as we began at Luzerne we got to touch the equipment and boards and be on-air. We were hands-on from day one." Hoover says the radio station and TV studio were his hangouts throughout college. "I learned everything from editing and producing commercials, how the radio business works, and a lot about video," he says. "Everything in radio now has a video component to it."
Reino encouraged Hoover to apply to Shamrock Communications in 1998. The station hired Hoover to run the sound board for Yankees games on its WEJL station. Its sister station, Rock 107 aired 24 hours, seven days a week. "The night guy called off sick and my manager came to me and said we can't find anyone to do the midnight to six shift," Hoover recalls. "He asked if I wanted to take the shift and I said 'yes.' I was already a DJ at LCCC's radio station and knew what to do." Hoover went from one studio to the other studio. "I was a little nervous just before I went in," he admits. "It was when the DJ ahead of me told me not to be nervous, there's only 100,000 people listening that the butterflies in my stomach really started to dance."
Hoover made it through his overnight on-air shift. "That made the program director happy and he started giving me more and more on-air shifts," Hoover says. ?Before you knew it, my younger years were shot because everyone would be going out to the bars and I would have to decline so I can work the overnight radio shift."
Hoover soon earned a full-time position as the promotion assistant. Not long after that the promotion director left and Hoover took over that role. He also had to pick up more on-air shifts eventually landing the afternoon shift on Rock 107 Monday through Saturday.
As far as outside the work place, free time doesn't come along much for Hoover. "I love the outdoors and enjoy camping, hunting and ATV riding."
Much of the audience Hoover attracts are also interested in outdoor activities and topics which he brings up. He often also speaks highly of his military background.
Hoover still enjoys his classic rock CD collection with bands like Creedence Clearwater Revival, Black Sabbath, Motley Crue, Genesis, and his favorite band of all time, Guns N Roses.
For students wanting to enter this field, Hoover tells them to get their education and get on-air as much as possible. "Get as much experience as you can and learn not just about radio, but also web design, video, and social media," Hoover says. "These are all part of the radio business now." Finally, Hoover says to bring your own personality to the airwaves. "Everyone has their own personality and style that works for them. Just be yourself."