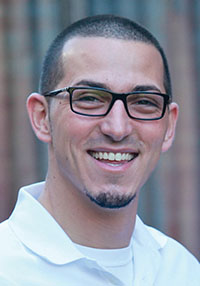 Hungry Ambition
"My original ambition was to become a nurse," Rich Hachan '09 says. "I looked at several schools and heard that LCCC was highly known for its nursing program."
Rich, a Carbondale high school graduate, enrolled and started his education at Luzerne County Community College toward his career path. What he didn't realize at the time was the job he held to help pay for college would lead him in a different direction.
While going to school at LCCC, Rich had been working at Olive Garden in Wilkes-Barre. He started as a line cook, then worked his way to becoming a culinary assistant manager.
"They selected me to be a corporate trainer, which allowed me to open up new restaurants," Rich says. "I opened up six restaurants shortly after."
Several events occurred during Rich's time at LCCC which led him down a different path. "I started to feel that nursing wasn't a good fit for me, I was doing really well at the Olive Garden, and my grandmother passed away ? all led me to refocus my life and career objectives. I changed my major to the Hotel and Restaurant Management program."
Rich speaks admirably of his instructors who guided him through transition. "I still keep in touch with my teachers Jim Phillips, Kate Clemente, David Pembleton, and Sal Shandra,? Rich says. "I can't say enough about them."
He remarks about the faculty's decorated careers from owning own businesses to working at restaurants and food service providers. "Oftentimes, teachers just teach out of a book," Rich points out. "LCCC's instructors drew a lot on experience in their personal and professional lives and careers. This resonated with me."
Rich says he wasn't a high-end student in high school, but excelled in college because of the way LCCC's instructors taught him. "The classes were detailed; we would learn a lesson then go right ahead and do it ourselves in the kitchen. The classes were fun, interactive, and user-friendly. I still use the techniques I learned in class to this day; whether it's butchery, filleting a fish, or just basic cooking methods."
At the Olive Garden, Rich held nearly every kitchen position there. "I was kitchen manager, front house manager, bar manager -I did everything in the whole building," he says. "I served, bussed, hosted, managed, and cooked."
After Rich graduated from LCCC in 2009, he handled three consecutive restaurant openings, then was promoted in 2010 to management.
Although he enjoyed his work with Olive Garden, he felt an itch to move onto something new to build his career opportunities. Rich moved to Boston and took a job as the kitchen manager of the British Beer Company. "It was a totally different atmosphere from the corporate world," Rich says. "Not a lot of technology, but a very old style method of management. It was a cool place and I worked with several amazing people. The kitchen managers would have these cook-offs with a whole bunch ingredients in mystery baskets, and that's how we came up with the menus."
A need to grow into a greater career path, led Rich to New York. He found a position as an executive chef at ShopRite Supermarkets, the largest retailer-owned cooperative in the United States and the largest employer in New Jersey. He worked in all four of the stores in Albany. "Last year, I was promoted as the food service supervisor for the company," Rich says. "I oversee 10 locations with more on the way." Inside the ShopRite stores, there is a food service area with different food bars and menus. Rich is responsible for the day-to-day operations including menu design, costing of recipes, recipe simplification, standardizing offerings, developing training programs, billing and buying options.
"When they interviewed me, ShopRite asked me if I was ready for the job," Rich recalled. "I said 'No. I've never done what you guys are asking me to do, but you?ve seen my abilities and if I'm under the right person (which my boss was brilliant at) I could climb as high as I set my mind to." This was not the response they were expecting, but they took the chance and made sure I received the training and opportunities to be successful." Rich lives in Middleton, New York and manages stores from Albany down to White Plains, New York and as far south as New Brunswick, New Jersey.
"I've drawn a lot from my education at LCCC," Rich points out. "The cooking techniques, the menuing, even the math skills I use in all our stores."
He says oftentimes people going into the restaurant or food service business think they are going to work within banker hours and have immediate financial success. "It took me a lot of work and time to get to this level. You have to be willing to do the hard work."
Rich points out some of the other culinary schools out there don't offer the holistic approach that LCCC offered. "I learned both culinary skills and business skills and the combination of that education helped propel me to where I am today."