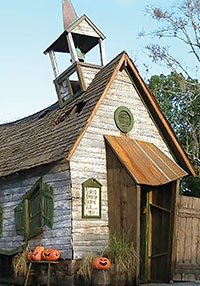 Making Fantasy Real
If you were to say that Kim Gromoll '77 works in a fantasy world, you would be correct. Kim, an alumnus from Luzerne County Community College, is a freelance artist and scenic designer who has created sets, scenery, floats, and designs for fantasy lands like Universal Studios and Disney World in Orlando, Florida.
"When I was five years old," Kim recalls, "I got this little toy knight for Christmas. I drew a picture of the knight onto a piece of cardboard and the image looked exactly like the toy. I wrote on the cardboard 'drawn by Kim at age five.' I still have that drawing. So, all the way back then I have always enjoyed illustrating."
Originally from Plains, Kim attended Plains High School until he was a junior, then transferred to Wyoming Seminary. Upon graduation, he decided he would continue to pursue his love of art.
"I knew I would do something with my ability," he says. "I figured I would become an illustrator." Kim chose Luzerne County Community College to follow that dream.
There were three art teachers there Kim learned from: Sue Sponenburg, George Schilling, and Bob Kray. "All three were working professionals in the field," Kim remembers. "I can?t tell you how important that was to me." Kim and his friends were eager to learn all they could to become professional artists like their instructors.
"We would attend George?s class, go out to eat, then we would come back and just talk with him?he would also often let us sit in on another class, just to keep learning. He was tough and he was fair."
Kim is still friends with Sue Sponenberg. "She is simply amazing," he boasts. "Sue creates incredible equestrian, fox hunt art, and very traditional oil paintings." Kim called George "The Shark Guy," as he created a lot of work with National Geographic, Field and Stream, and other outdoor mags. "In addition to all the fish and sharks he illustrated, George also did a lot of Sci-Fi artwork," Kim beamed. "He would bring in the latest cover of some pulp magazine that he did of some alien or a spaceship. We were kids just out of high school and this was really exciting stuff to see."
Bob Kray created a great deal of wildlife work. "He would bring in a painting of an eagle soaring over the woods or a buck in the fall in the field. It was wonderful to see all that." Kim says he still uses a lot of the techniques and knowledge I learned there. "I remember one of the first paintings that I did in acrylic and I still cringe about it, but I was learning. I painted an elk in the forest and all the trees were the same size. Bob looked at my painting and said, 'In life, things are random, nothing is the same size. Natural trees don?t look like they are from a Christmas tree lot.' That stuck with me so much that almost all of the designs I do include a randomness; almost nothing is symmetrical in my designs.
After Kim received his AAS Commercial Art degree from "The Cube," in 1977, he continued his education at the Maryland Institute College of Art and received a Bachelor of Fine Arts, for Illustration.
Kim worked for several companies after that, then started freelancing. He freelanced for awhile around Bucks County and the Philadelphia area for 15 years doing anything that would pay the bills, like design work for books and magazine covers. "I also did around 600 postage stamp illustrations for 16 different foreign countries," he says.
Then illustration jobs started to evaporate in the area as new software design programs came out. The need for hand drawn illustrations started to diminish. So about 20 years ago, Kim moved to Orlando, Florida.
"I found I had an affinity to design in 3D spaces," he says. "I worked with a few small companies designing theme park type attractions and landed a two-day gig at Universal Studios to do some design work which then turned into 16 years of working for Universal."
At Universal Studios and Walt Disney Entertainment, Kim designed parade units, show sets, stages, themed vehicles for characters, and projects like Halloween Horror Nights & Grinchmas. He also designed numerous stage shows, events, grand openings and concerts.
"I was a senior designer, but left to take a position at Disney in art design and entertainment as an art director," he says. While at Disney, Kim designed and art directed a number of attractions including the Mr. Oogie Boogie's Funky Freakhouse Show, Queen Elsa's Float for the Frozen Summer Fun Parade and many smaller projects. "One of his favorites was the 20th Anniversary of the Lion King Show. I had to design the scenery, dance stages, rocks that the performers and narrator would stand on, and create it for easy set up and break down." Kim spent two years at Disney and left there last summer to freelance.
?I have been freelancing with several different companies, like Nickelodeon Studios, Busch Gardens Tampa, and now Universal again,? Kim says. ?I am starting with a group there this year designing a new theme park in Beijing, China.? Kim also freelances outside the field of theme parks, including painting artwork.
"I've been a Star Wars geek since I was at LCCC," Kim states. "I was there in 1977 when the first Star Wars movie came out. My LCCC classmate buddies were all fans. About four years ago, I started to paint original Star Wars limited edition prints for a company called Acme Archives. The cool thing about this is they offer the original art to George Lucas, and he has purchased two of my pieces. As a result, my wife and I were able to get a tour of his Skywalker Ranch in California."
Married 34 years to his wife Maryann, Kim has two children Nicole and Michael ? both who also work at Universal.
The family enjoys traveling. They recently went to Ireland to see Skellig Michael, the Island that was shown at the end of Star Wars, The Force Awakens movie.
"My most favorite thing I've created is the Skool House, a haunted house I designed for Universal in 2008," Kim recalls. "It's dilapidated, not one straight line on it, and looks like it?s going to fall down. It all goes back to what my LCCC teacher Bob Kray said about randomness. I loved 'The Cube.' It was the best two years."