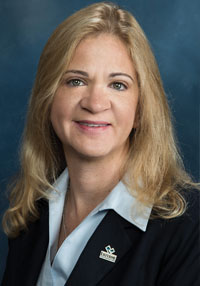 Proud to be an Alumna
Luzerne County Community College is kicking off its 50th Anniversary Year. As the former Chair of the Board of Trustees, and a graduate of the College, it's my honor to have served on this Board as we celebrate 50 years of providing an affordable and accessible education to the community. As Trustees, we volunteer our time because we all want to give back to a community that we love. And we all have at least one thing in common -- the best interest of the institution.
We are proud of our graduates, for all that they have accomplished, which we know at times has not been easy. Many are traditional students and many are first generation college students who are blazing a path for family members that come after them. Among our graduates are those who have had the stress of balancing work and family obligations, as well as individuals who are parents who found themselves out of work and needed to be courageous enough to pursue a different career path. Many struggled with limited resources, but somehow found the money to pay for tuition, books, and transportation to class.
The mission of community colleges is to serve those in the community in which they exist. Community colleges make education affordable and accessible. We are open admission and tasked with helping individuals from all walks of life to not only survive, but to thrive. I am proud of the fact that everyone is welcome at LCCC.
Luzerne County Community College has been educating our region for nearly 50 years and has produced some of the best and brightest in the community. Whether we are small business entrepreneurs or big business executives, technology innovators or teachers, truck drivers or artists, paramedics or nurses -- we keep northeastern Pennsylvania alive and thriving. And our reach of graduates goes well beyond our region -- we represent some of the best in their professions around the world.
I am proud to call myself a graduate of Luzerne County Community College. As I spoke at the College's graduation last May, where more than 800 students walked across the stage, I told them whether they are moving on to become an accountant, a journalist or a firefighter, to go do it with the intention of being the best in their field and to show everyone out there how Luzerne County Community College has made our community, and our world, a better place. This is something our students having been doing for the past 50 years and will continue far into the future!