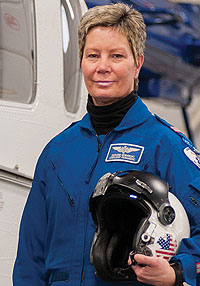 Paramedic in the Sky
Performing CPR on a patient while traveling at 120 knots several hundred feet above the ground may seem like a superhuman feat, but for Darlene Murawski '96, it's just part of the job.
Murawski is a Geisinger Life Flight paramedic stationed in a hangar at the Scranton/Wilkes-Barre International Airport in Avoca. She provides life saving support as part of a three person team consisting of a pilot, paramedic, and specialized nurse aboard an $8 million helicopter.
The Life Flight team provides pre-hospital, on-scene advanced life support and rapid transportation to accredited trauma centers, burn centers and critical care facilities in the mid-Atlantic region with a flight range of more than 400 miles.
Murawski is part of a staff that works 12-hour rotating shifts every day of the year. She says the hanger consists of offices, crew quarters, and space to store the helicopter when not in use. When the emergency tones are sounded, the team has just seven minutes to tow the EC 145 Eurocopter out of the hanger, power it up, and take off.
"The Life Flight helicopter has the same equipment found in advanced life support ambulances," according to Murawski. "We oftentimes fly into difficult environments such as work sites, highways, parks, near rivers and lakes, and deal with many potential emergencies."
Car crashes, ATV flips, snowmobile accidents, motorcycle spills, boating mishaps, stabbings, and hunting gunshot victims are just some of the emergency calls the Life Flight crew respond to.
The helicopter can transport two patients at a time and is equipped with such emergency medical equipment as advanced cardiac monitors, defibrillators, intravenous infusion pumps, oxygen and a full range of emergency cardiac medications.
"It's a very dangerous job," Murawski points out. "You are flying into difficult environments, dealing with severe trauma, and in varied weather conditions. You have to be dressed to handle the climate you are in."
Murawski says the weather is one of the most challenging factors in reaching victims or transporting patients. "Most people aren't aware that helicopters don't perform well in severe thunderstorms, heavy rain, snow squalls and blizzards." Advanced onboard weather monitoring equipment constantly monitors changing conditions.
Murawski says the use of night vision goggles have been a major asset in helping with night landings and finding accident scenes in the dark. "You don?t want to land in a black hole," she points out. "The goggles help you see everything when there is little to no light."
According to Murawski, the crew often transports patients from one medical facility to another. They can provide critical care transport for premature newborns, cardiac patients, critically ill adult and pediatric patients, high risk obstetrics and organ transplant patients from local hospitals to specialty care hospitals up to 250 miles away.
Murawski says she felt the calling to emergency service from her family. "My mom, Mildred Charney, and brother-in-law, Bill Hizny, used to volunteer with the West Wyoming fire company and ambulance," she says. "Because of my mom, I was inspired to also volunteer."
She says that feeling of accomplishment kept her interested in the field. "You get that good feeling that you?ve done something to help another human being," she states proudly. "There's always someone who appreciates that."
Murawski enrolled in the paramedic program at Luzerne County Community College and received her paramedic certification in 1982. When the criteria for paramedics changed some time after, she re-enrolled at LCCC and completed her education in 1996.
"LCCC has a well established Advanced Life Support/Paramedic certificate program and Emergency Medical Services degree," she states. "The instructors together have over 100 years of experience and work hard to make sure their students are the best at their jobs."
In addition to being an alumna of the college, Murawski is also an adjunct instructor and clinical coordinator at LCCC. "I teach several classes and as the clinical coordinator, I schedule student classes and training at area hospitals and life support units." She also adds that teaching helps keep her skills sharp.
Murawski brings her work to class sometimes. One lesson her students learn is how paramedics make the call to bring in the Life Flight helicopter. The crew flies the copter to LCCC's Public Safety Training Institute and shows the class the equipment and operation of the flying facility.
But it's the rush she gets of flying in a helicopter that she continues to love. Murawski worked for the Wyoming Valley Health Care System Advanced Life Support on the ground until 2001. "When I helped patients onto the Life Flight helicopters, it always seemed like the helicopter crew had a thrilling job," she says. "So when a position opened up in Avoca, I applied and was excited when I found out I was accepted."
To potential students who want to enter this field, Murawski advises if you want to be a paramedic, then make that your goal. "Keep educating yourself, keep up with your certifications, and work hard," she says.
"I love my job. It's very rewarding and it's very stressful. You are making split second decisions to save someone's life. You have to be on your game at all times. But at the end of the day, it's all worth it."
Click here for more information about LCCC's EMS/Paramedic programs.