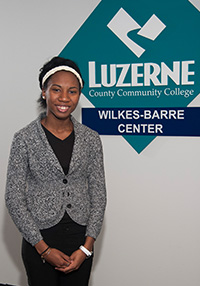 Forever Grateful
My name is Laura St. Preux and I'm in my second semester here at Luzerne County Community College. I transferred here in the spring of 2014 and at first I didn't know what to expect. I've come to know many driven and hardworking students, along with the most dedicated and caring faculty I have ever met.
I chose LCCC because it's so affordable and it's so close to home. I'm so glad I did. Starting out as a general studies major, I soon realized from taking a few classes that I wanted to be involved in the medical field. That's when I switched my major to Medical Office Specialist. Since I changed majors mid semester, I wasn't able to take courses on the main campus. But due to classes starting later at LCCC's Wilkes-Barre Center, I was able to take 3 courses for my major. I also was provided the opportunity for work study here as well which is helping me a lot financially and teaching me the responsibility of being in a working environment.
In the future, I hope to graduate with my degree in Medical Office Specialist, and then transfer on to a four-year college to receive a bachelors degree in Health Service Administration. The day I walk across the stage to receive my diploma, or the day I'm interviewing for an internship opportunity, I'll remember that Luzerne County Community College helped me get started in the career I've always wanted, and for that I will forever be grateful.