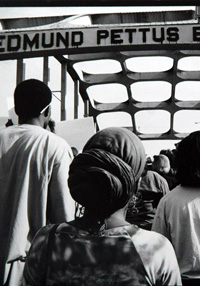 Photo Story Teller
It's not often you come across someone who truly loves their job. On any given weekday morning, many Americans begrudgingly drag themselves out of bed and begin the often tedious nine-to-five workday. Jim Gavenus, however, is not one of these people.
Gavenus, a resident of Lenhartsville, PA, is the Coordinator of the Photography department at Luzerne County Community College, where he teaches courses in Commercial Arts. Gavenus's latest venture involved him traveling to Selma, Alabama, where he photographed individuals who had been involved in the Civil Rights Movement. Many of the people he photographed were present during the horrific events that took place on March 7th, 1965, also known as Bloody Sunday. On that day, six hundred Civil Rights Activists gathered in Selma and marched across the Edmund Pettus Bridge. Not long after the march began, protestors were confronted by Alabama State troopers and local police, who insisted they turn around. When the protestors refused, they were attacked with teargas and billy clubs, which resulted in the hospitalization of over fifty people.
"I started photographing poverty in Alabama, and then I started hearing all these stories of the Civil Rights Movement, and one day I ended up in Selma," Gavenus recalls. "Many people will say that it created the Voting Rights Act that exists today." After spending time in Selma, Gavenus's photography began to shift from photos of poverty to documenting people that were part of the Civil Rights Movement.
The Civil Rights Movement was a social movement that occurred in the United States, particularly the South, from 1954 to 1968. The goal of the movement was to end racial segregation and inequality against African-Americans. Malcolm X, Rosa Parks, and Martin Luther King, Jr. were among the many activists who were involved in the Civil Rights Movement.
Through his work in Selma, Gavenus has become close with many of the locals. "I was hearing stories of the horrific ways these people were treated, and the thing is, these people became my friends," he reveals. "I stay in their homes, I sleep in their beds, they feed me. They kind of took me in." Gavenus admits that after hearing his friends' stories from the Civil Rights Movement, he took the way they were treated personally. "I feel a responsibility to tell their story, because so many people don?t know it."
Recently, Gavenus was presented with the opportunity to see the movie "Selma" with an important figure in the town. "I was invited to see the movie with Joanne Bland," he says. Bland is one of the founders of the National Voting Rights Museum in Selma, which made Gavenus's movie-going experience that much more memorable. Gavenus cites Bland as being the person who first told him about Selma and the events that occurred there during the Civil Rights Movement. "When I met Joanne, she quickly pointed out how na´ve I was," Gavenus laughs. "Nobody ever taught me about the Civil Rights Movement." Through his friendship with Bland, Gavenus became more knowledgeable about the subject of his photographs. "With her, I was able to meet some of the most amazing people, like the Clintons, the Obamas, the King family." Gavenus admits that watching the movie took an emotional toll on him. "I get the same feeling when I leave a funeral. I'm drained."
Gavenus finds the success of his photographs rewarding, and especially enjoys the added perk of meeting new people through his travels. "To have a perfect stranger from across the country who'd never been in Selma come up and say 'excuse me, thank you', that?s kind of cool."
As of late, Gavenus is in the process of brainstorming ideas for his next project. "I'm going to try to find some people who maybe were filled with that hatred at the time, but changed." Aside from his work involving the Civil Rights Movement, Gavenus is searching for a brand new project. He mentions an interest in photographing the alarming use of heroin across the country, but isn?t sure if the subject is something he'd like to delve into just yet. "It needs to be addressed in a way more significant than an obituary."
To see more of Jim's Photography click here
By Brianna Redding '15, Journalism