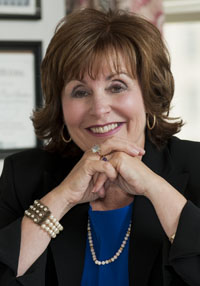 Finding Your Direction
Sometimes people need a push in the right direction to succeed.
Bette Cox Saxton '98 tries to help people every day overcome barriers every day, including their own self-made ones, to live a better life. Saxton is President and CEO of Maternal and Family Health Services, Inc. (MFHS).
Founded in 1971, Maternal and Family Health Services is a non-profit health and human service organization that provides high quality health and nutrition services to women, children, and families. Their service area spans 16 Pennsylvania counties and includes a network of direct and contract health centers which serve more than 125,000 individuals each year. As chief executive officer, Saxton is responsible for establishing the strategic direction of the organization and providing the necessary leadership to ensure the ongoing success of MFHS.
"Through our programs, Maternal and Family Health Services addresses a variety of health concerns and works to improve access to care for women, children and families," she states proudly. "Our core programs offer services such as nutrition counseling and education, reproductive and gynecologic health care, breast and cervical cancer screening, STD testing and treatment, sexuality education for teens, nurse home visitor services, prenatal and obstetric care, community education, parent education, professional training, and outreach."
It has been Saxton's mission to persuade legislators, companies, and individuals to help women, children and families receive the health services they desperately need. As one of the 2010 Top 25 Women In Business, winner of the Luzerne County Pathfinders Award, and Luzerne County Commission for Women's Woman of the Year, Saxton herself benefited from encouragement and helpful pushes to reach her new role.
Saxton always felt drawn to the health care industry and chose to attend Mercy Hospital?s School of X-ray Technicians. "I loved being an x-ray technician, and I worked in the field for many years, but I always felt in time I would want a change in careers," she reflects.
Saxton attended an outreach event at Luzerne County Community College and became interested in the idea of taking college classes. "I didn't have a college degree, and wanted to try out some courses," she says. Saxton was hesitant at first. She was an adult learner, single mother, and working.
"I decided to take a marketing course," she says, "and I found I enjoyed it immensely. As an adult student, it was helpful to see other adult students in the class with me. I continued to take a class here and there at LCCC." At one point, Francis Curry, a former recruitment director at LCCC, suggested that Saxton try to work toward a degree at the college. "I looked at the classes that I was choosing and became motivated to earn an Associate's degree in Business."
"I am probably the longest adult learning student in the history of LCCC," she jokes. "I started taking more and more courses. My instructors kept me motivated and determined to keep to my goal. LCCC was very convenient and accommodating." Saxton finally achieved her goal in 1998 earning her Associate's degree in Business Administration. She continued her studies at State University of New York in Binghamton, earning a Bachelor of Science degree in Business, Management, Marketing, and Related Support Services. Saxton obtained a Master's certification in 2006 through Seton Hall University in Health/Health Care Administration/Management.
"LCCC was really the foundation I had for college," Saxton says proudly. ?The experience helped me become engaged toward obtaining a college degree and pursuing a new career filled with many new opportunities." Saxton says she enjoyed the "real world" experience from her instructors and other adult learner students in the classes. "If I didn't take that first marketing class at LCCC, I would never in my wildest dreams have believed I would go from an x-ray technician to the CEO of a fairly large non-profit organization." While working in Radiation Oncology, raising a family, and going to LCCC part-time, Saxton started her own business publishing a magazine called Concerning Women, which focused on women and health care issues. "Concerning Women was Northeastern PA's only women's publication written for and by women, targeting more than 60,000 readers with articles pertaining to health, fitness and finances, and more," Saxton says. Her career direction began to take shape. Working with the hospital, she helped bring all women's services together within the Wyoming Valley Health Care Program as the women?s health network director.
Her work with women's health issues in the area attracted the attention of the MFHS CEO who offered Saxton a position as Chief Program Officer. In 2005, Saxton took over the reins as CEO of the organization. "What we do here is both interesting and challenging," Saxton states. "Our employees are extremely dedicated to our cause, which motivates all of us to keep helping low income women and children of Northeastern Pennsylvania. Our work starts with and ends with care."
Saxton begins her day very early. She works with scarce resources in today's economy and is always looking for collaborative partners, legislative support, and expanding the organization's offerings. "The classes I had at LCCC in marketing and communications have helped me tremendously," Saxton says. "It's important as a CEO to be visible and have the networking skills to be successful at building partnerships. Understanding the importance of branding helped unite our message here and educate others on what we do."
Her son, David Saxton '05, also graduated from Luzerne County Community College in Commercial Art/Graphic Design. His instructors also encouraged and persuaded him to continue studying at Savannah College of Art and Design.
"I was always impressed with the encouragement I received from my professors, and I saw the same thing with my son," Saxton remarks while looking at a photo of her son in her office on Public Square. Saxton fills her office with lots of photos of family, uplifting quotes, and a motivational plant. The plant came from the previous CEO. A small sign that came with the plant reads: "May your progress grow."
"I became superstitious of that plant, so I water and care for it every day, and so far it continues to grow," Saxton says.