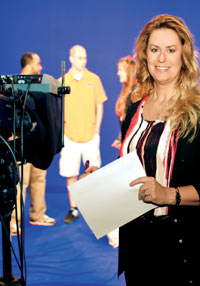 To the Nth Degree
For Donna Bigoski Caruso, Luzerne County Community College had a great effect on her career outlook, now she is making great effects on the tourism and broadcast industries.
Early in 2012, Caruso began a new career as Producer at Nth Degree Design & Visual Fx Inc. A recent winner of Orlando Businesses Journal's 2010 Technology Geek Award in the interactive marketing category, the company houses a team of creative professionals who create special effects for film and television.
Their work has included a Star Wars project, a series for Animal Planet, as well as projects for theme parks, the Discovery Channel, the History Channel, PBS and National Geographic. Other major clients include Disney Parks & Resorts, Sea World, Darden Restaurants and Marriott Vacation Club.
"My main role is project management," Caruso states. "I act as the liaison between the client and the artists in the studio. We handle a lot of the post production end of things, like special effects and animation. The firm's creative team of artists take digital medium to new levels, such as taking simple sketches to elaborate stereoscopic 3-D scenes.
In her role, Caruso holds creative meetings to find out what the client is looking for, then conveys that vision back to the artists. Caruso explains that the client might just have an idea or something already shot against a green screen and needs effects added to the video.
She points out that Nth Degree works hard to keep ahead of rapid technology advancements, while understanding today's tech-savvy consumer expects a certain amount of interaction with their entertainment. "You have to continuously learn with the industry," Caruso says. "It's a lot of fun and excitement, but you have to be dedicated to this line of work."
As a Kingston, Pennsylvania resident and a graduate from Wyoming Valley West, Caruso originally chose LCCC because of the accessibility and affordability of the College. "I did not want to leave the area at the time," Caruso recalls. "I had a lot of friends going to LCCC. The class size and personalized attention were attractive to me." Caruso also felt LCCC had the academic choices she was looking for that matched her interests.
"I have always loved entertainment and television," she says. As a youth, Caruso would act and produce shows on her tape player. "I did a lot of that as a kid," she recalls. "When I went to college, I was able to reignite that passion." Caruso remembers spending much of her time at Luzerne County Community College?s broadcasting studio creating and producing news broadcasts, talent show contests, Halloween dances, and shows such as the Dating Game.
She attributes much of her skills for broadcasting on those she learned while at LCCC, such as storyboarding, filming, set design, editing and post production work, and public speaking.
While at LCCC, Caruso produced several television shows that aired on WYLN, a local television station located in Hazleton, PA. After graduating from LCCC in 1995 with an A.S. degree in Broadcast Communications, she was hired at the station.
Being a small station, Caruso had the opportunity to work at many levels of a television station. She helped with set design, promotions, video shoots, and even hosted her own show.
Caruso then moved to Florida and continued her education at Florida State University.
While finishing her studies, Caruso landed a broadcasting position at WSFU-TV, a PBS affiliate covering northwestern Florida. The station also broadcast the Florida Legislature providing live, unedited Legislative coverage and live, oral arguments of the Florida Supreme Court. "I had access to the Supreme Court Floor," Caruso says. "Filming and interviewing the judges and legislators was actually really cool."
While at Florida State, Caruso took an internship with the Tonight Show in Los Angeles for five months. "Long days and a lot of hard work, but myself and the other production assistants were able to participate in skits like Jay Leno?s famous JayWalking bits," she says.
After college, Caruso went to work with C3 Studios in Orlando producing such shows as Ron Hazleton's Home Improvement episodes.
Caruso's love of horses led her to a job as head of Marketing and Public Relations at Highlife Farms. She acted as facilities manager of the company which breeds and boards world class sport horses for dressage and hunter/jumper competition. Many of the horses are located in British Columbia and Germany. "I grew up around horses, so it was a wonderful career for me," Caruso states.
In addition to her current production career at Nth Degree, Caruso is also head of D.L. Enterprise, LLC, a small company she founded focused on product promotion. "Our joke book publication, '?the best internet joke I ever read was?' is being offered online at Amazon, Boarders and Barnes and Noble." Her next consumer product, the Perfect Fit Planter, is being offered to local retail outlets in and around Central Florida.
"I have always kept myself very busy," Caruso remarks. "If you have passion for something, you have to make it happen."