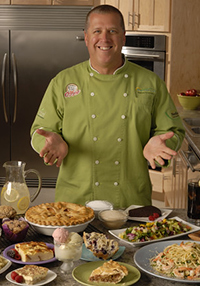 Cooking with the Oz
As a student at Dallas High School, Don Godleski enjoyed his studies, friends, and playing football, but as he started reaching the end of his high school years, he wasn't sure what the future held for him. Godleski met with his high school counselor who asked him quite simply, what do you enjoy doing the most? He spent a great deal of time helping prepare meals for his family.
"While I was a youngster, my mother inspired me to try my hand at cooking," Godleski recalls. "I spent many days helping and watching her as she prepared family meals or food for holiday parties."
"Early on, I was fascinated by the hospitality and food service industries," Godleski says. "My first job, at fifteen, was at Burger King, and I continued to work in food service through high school and college."
Godleski felt strongly that food service was his career path. And although his mother is an excellent instructor, he began to explore culinary schools. His sister, Judy had finished Luzerne County Community College with a degree from the Dental program. Godleski learned LCCC offered a program in Hotel and Restaurant Management. "I made a last minute decision to go to LCCC," he says.
"My Hotel and Restaurant Administration instructor at the time, Eustrace Scannell, thought I had a fantastic instinct for cooking," Godleski says. "He saw something in me. He pushed me and encouraged me to keep going in this program."
Godleski credits many of the management and core culinary courses at LCCC as being helpful in preparing him for through his career. "College academic classes were a challenging transition from high school," he recalls. "I made a lot of new friends at LCCC as well as some old ones from Dallas High Shcool. I have a lot of great memories from LCCC."
Godleski received his degree in Hotel and Restaurant Management from Luzerne County Community College in 1983 and with professor Scannell's recommendation, went on to pursue his degree in Culinary Arts and continued on to receive his BS in Food Service Management from Johnson and Wales University.
"After college, I went to work for a Connecticut restaurant as a chef, doing the purchasing at Hunts Point produce and meat markets and the Fulton Fish Market in New York City," Godleski says. "I then moved into the contract food service industry, spending ten years with Marriott Corporation, followed by work in the Philly Steak manufacturing business and with several other companies, leading me to where I am today."
In 2008, Godleski landed his current position at Heartland Sweeteners as their Corporate Executive Chef and Brand Ambassador. His job entails developing new recipes utilizing the company's products and traveling around the country to promote Ideal Sweetener. He tests recipes and is the culinary expert for the company.
"As the company chef, I have the vision of taking this product and using it in all my everyday recipes, as well as developing new products and applications," Godleski says. He uses his stage name of "Chef Ozzie" when promoting in public.
Chef Ozzie was also one of nearly 700 chefs who gathered at the White House as part of the First Lady's initiative to combat childhood hunger and obesity and to become the healthy food educator. Godleski is an advocate of heath and well-being and has worked with school districts to develop healthy food choices.
He travels across the country to attend trade shows and food events touting the Ideal brand. He has appeared on shows such as QVC and was a regular guest on Lifetime Television?s morning show "The Balancing Act."
In addition to his duties as a chef, food scientist, and spokesperson, Chef Ozzie is also an author. His recent book, "Sweet Revolution. Cooking Without Sugar," won the 2011 Indie Excellence Award in the category of Food Non-Fiction and includes over 60 recipes.
Godleski is an active member of the Research Chefs Association. He refers to himself as a culinologist, a chef whose approach to food blends the culinary arts, food science, and food technology. Through the blending of these disciplines, culinology seeks to make food taste better, be more consistent and safer.
Godleski says culinary graduates are missing some great opportunities in this field. "Many manufacturers hire food scientists and chefs," he says. "The industry is huge and the opportunities are endless. Attend food trade shows, look behind the scenes, and get passionate about the science behind food."
Chef Ozzie says it all starts with a solid foundation. "I went to LCCC and look where I am now," Godleski says. "When you pick a career path, do something you are passionate about. If you love what you do, you never really work a day in your life."
So where did Godleski develop his alter ego Chef Ozzie? "In the summer of 1981, myself and three buddies lived and worked at the beach in Wildwood New Jersey. We gave each other nicknames based on famous rock stars. I had a ponytail so I was the obvious choice for Ozzy Osborne and the name 'just stuck with me.'"
Don Godleski, aka Chef Ozzie
Spouse: Lisa, wife of 22 years
Children: Taylor, Maggie, and Mitchell
Education: Hotel and Restaurant Management, LCCC, 1983
Attended Johnson and Wales after LCCC and received an AOS in Culinary
and BS in Food Service Management
Current Job: Corporate Executive Chef and Brand Ambassador for Heartland Sweeteners