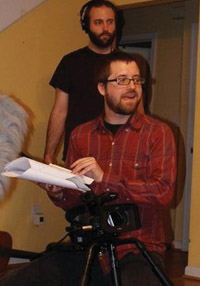 Success on the Small and Big Screen
Dave Bonawits is a video editor, filmmaker, and musician currently living in Atlanta, Georgia. He has directed eight short films in the past several years. 2010 was a particularly productive year as he completed a feature film, directed two music videos, shot and edited Casper Kelly's Please, Please Pick Up, recorded a solo album, and played a few rock and roll shows with Antbrain, a band he started with Jiyoung Lee. Bonawits works as a video editor for Cartoon Network/Adult Swim. He also hosts FishCenter Live, a weekday call-in talk show narrating over footage of tropical fish swimming around in a fish tank.The fish are ranked according to their points, which are awarded when the fish complete a number of challenges.
As a high school student at Wyoming Valley West, Dave Bonawits wasn't sure what his future held for him. He had two passions, his enjoyment of art design and music. "I spent every dollar I earned on CDs," Bonawits admits. "I played guitar and started writing and recording my own music in the late 90's." Looking for a career path, he contemplated the idea of designing album covers. Bonawits sought out colleges that had a strong commercial art program.
It came down to two schools. Bonawits chose Luzerne County Community College. "I have two cousins who went through LCCC and really enjoyed it," he recalls. "Financially, it was the most logical choice and it just felt like a good next step for me."
Bonawits enrolled in LCCC's Graphic Design program through the Commercial Art Department. "What really struck me was that the instructors at LCCC were really passionate about teaching," he remembers. "They paid attention to you, explored your strengths, and let you work hands-on with projects right off the bat. The way the faculty talked about art and creativity struck a cord with my artistic beliefs."
His art classes continue to influence his work in his current endeavors. "My color theory class still drives my design projects at Cartoon Network," Bonawits states. "Lessons I learned from my art classes are ingrained in my brain as to what works visually. LCCC is where I learned Photoshop and I still use that program every day."
LCCC held a student art contest to design the cover of the commencement program. Bonawits entered and won the contest. He graduated with an Associate's degree in Graphic Design in 2001.
Bonawits transferred to Temple University as an Art History major still determined to land a career in commercial art. A high school friend of his also transferred to Temple to major in film and video. Bonawits helped him work on several film projects and enjoyed the medium so much that he switched his major.
After graduating from Temple, Bonawits moved to Atlanta, Georgia with his girlfriend at the time and picked up work as a production assistant on several reality TV shows. He worked at a grocery store to help with expenses until he could find a full time job in his field. "It was a lot of waiting around," he expressed. Finally in March of 2006, Bonawits caught a break when Cartoon Network hired him as a production assistant. He worked with the company's website and eventually moved over to their Adult Swim department.
"Adult Swim is an interesting place because it's a very small group of people running a hugely successful television network," Bonawits says. He refers to himself as a "digital maid" because of the wide variety of projects he works on. "I mainly work for adultswim.com, so often I make promos for the shows and flash games on the site." In addition to editing, Bonawits works very closely with the writers to shape promos, shoot video, and sweeten the audio. He codes and edits shows and uploads them to the website. "It's a wonderful place to work. I like it here a lot," he adds.
Bonawits says his busy schedule at Adult Swim definitely instilled his hard work ethic, especially once he became more serious into his foray of filmmaking.
He started making short films when just a kid. Bonawits made several shorts while in college as projects for classes and several while in Atlanta. Then came Pleasant People.
"Pleasant People is my first feature," he states. "It started as a short film submitted to the Rapid i Movement film contest in February 2008. I cast my girlfriend, Jiyoung Lee, and two of my best friends, Josh Hall and Becca Cayce, as the stars. I had never seen any of them act before, but I had a hunch they would be good onscreen. And they were! People seemed to really enjoy their performances." Bonawits spent a year and a half collecting ideas and scenarios for the feature version of Pleasant People. "I very naively decided to act as producer, director, camera operator and editor. We took the next year shooting on weekends, editing as I went along, reshaping the story with each shoot. I actually scrapped the last 15 minutes of the film and reshot the ending. My mom said it has a 'feel good' ending. I wanted to make something that was warm and nice. We finished Pleasant People with a two-man crew for next to nothing."
Bonawits submitted Pleasant People to 10-15 festivals, mostly small regional fests. "Slamdance, was our long-shot," he admits. The Slamdance Film Festival is a yearly film festival reserved for independent films to showcase the discovery of new and emerging talent in the film industry.
A few nights before Thanksgiving Bonawits received a phone call saying his feature movie had made it into Slamdance. Pleasant People was one of ten films accepted into the narrative feature categories in the competition. The festival receives more than 5,000 submissions of features, documentaries and short films each year. "I parked my car and jumped up and down and shouted 'Yahoo!' which I don't think I've ever shouted in my life. But it felt appropriate."
Bonawits, Lee, and several other of his friends and fellow actors made their way to Utah to attend the screening of their feature movie. Other invitations from film festivals in Philadelphia, Atlanta, Chicago, Tuscan, and Guam followed. He is working on eventually releasing the movie to DVD.
Bonawits has been working on working on several other film projects and music videos, performing with Lee in their band Antbrain (which he describes as noisy pop music), and his full time gig with Adult Swim.
He filmed a web series on YouTube called "Diligent Witches" about a trio of 30-something women who saw The Craft in high school and never gave up the dream of being witches. They perform seances and things, but always mess them up. "It's a heart-filled comedy starring Jiyoung and Becca Cayce from Pleasant People and some other of my friends," Bonawits says. He is planning another feature movie project which he hopes to film in Wilkes-Barre.
Bonawits did say he finally was able to achieve his original dream. He used an artwork design from a class project at LCCC to design an album cover, for his own CD.