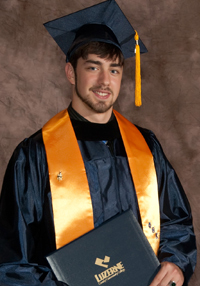 Outstanding Student
Stephen Swicklik, a lifelong resident of Nanticoke, Pa, grew up with Luzerne County Community College in his neighborhood. He chose to attend college here based on the positive reviews he heard from his friends and others who had attended LCCC. He was also looking for a college that was affordable and close to home.
Swicklik chose to major in Education. "When I came to Luzerne County Community College, I was happy with the caring and knowledgeable faculty," he says. "They are a large part of what this school offers by presenting challenges in a good way to better the students. I feel I forged some great relationships with many of my teachers."
Swicklik quickly became an active member of the LCCC student body. His high grade point average allowed him to join the Phi Theta Kappa (PTK) honor society where he became the chapter?s vice president. Swicklik worked together with other active members on several projects with the PTK. "Two of the most important projects to me were cleaning up graffiti in downtown Nanticoke and visiting Alzheimer?s patients at a local nursing home," he says.
While enrolled full-time at LCCC, he involved himself in sports, clubs and organizations on campus. He played on the men's basketball team and became an active member of the History Club. He participated in the "Honors In Action" film series and his outstanding grades helped him achieve recognition on the Dean's List and President's List.
Swicklik is an active member in his community as well. He serves as an Assistant Youth Director at St. Faustina Parish in Nanticoke where he also teaches CCD classes and organized two basketball leagues. He is one of 18 active youth members in his church who will travel to Madrid, Spain in August to attend World Youth Day 2011. More than one million youth from around the world are expected to attend the event to celebrate and learn about their faith.
And perhaps most impressive, Swicklik was recently named to the All-Pennsylvania Academic Team. Nominations for this award are based on outstanding academic performance and service to the college and community. "It was such a great honor to travel to Harrisburg to receive my award and be recognized with so many talented students from across the state," he states.
This May, Swicklik graduated "Cum Laude" with an Associate in Science degree in Education and a 3.7 grade point average. He was named as recipient of LCCC's Outstanding Graduate Award at Commencement.
Swicklik plans to continue his education at Bloomsburg University. "I wish to become a history teacher and then obtain a master's degree and maybe even a Ph.D. and teach at a college," he says. "I am overwhelmed with gratitude for my community college and the people who helped me along the way. I recommend LCCC to anyone."