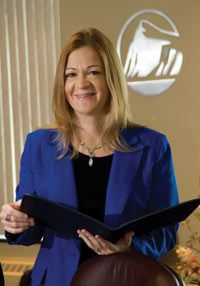 LCCC sets life course for alum
"If it wasn't for Luzerne County Community College, I wouldn't have gone to college and I wouldn't be where I am today."
Sue Unvarsky '86, is the senior vice president of operations at Prudential Financial. She often praises LCCC for steering her in the right direction to reach her educational and career dreams.
Sue Unvarsky was born and raised in Wilkes-Barre, Pennsylvania. Unvarsky was initially encouraged by her family to obtain a "co-op" job her senior year in high school so she could "get a good job." Wanting to further her education instead, her only option (considering her family's financial situation) was to attend Luzerne County Community College, which she pursued in 1984.
"At the time, LCCC was the ONLY choice for me with regard to starting my secondary education, in terms of affordability and flexibility. My professors were excellent teachers, experienced in real world businesses and situations. Most importantly, they were honest with me - helping me to grow."
Unvarsky says many of the skills she learned at LCCC help her in her career.
"I speak in public frequently as part of my job," Unvarsky says. "I give presentations, speak in forums, present market updates and meet with clients. The only speech class I ever attended was at the College and the skills I learned in that class have always stayed with me." Unvarsky also credits her base classes in accounting and business law as helpful in understanding dealings with clients and businesses. "When discussing legal and financial implications with attorneys and regulatory agencies, LCCC helped me understand the basics and perspectives that professionals in the legal and financial field have and I can better communicate with those colleagues." As a way to give back to LCCC, Unvarsky joined the Board of Directors of the LCCC Foundation and is currently the organization's president.
Motivated by her early experiences at LCCC, she went on to attend King's College, and graduated May of 1988 with a B.S. in Business Administration.
Unvarsky was hired in June of 1988 by Prudential Retirement to learn the business, and acquire the skills necessary to support the company's relocation to Pennsylvania. Unvarsky was ultimately promoted into a "site lead" role for the Scranton facility, overseeing university relations, community involvement and overall employee relations at the site.
Unvarsky continued to climb the corporate ladder at Prudential from there. In 1998, after being promoted to Director, Unvarsky helped manage the conversion of services for one of Prudential's largest clients, with over $1.5 billion in assets and nearly 200,000 plan participants.
Unvarsky was promoted to Vice President in 1999 and, in 2004, she became Senior Vice President. Handling corporate and tax exempt client services. Unvarsky was made accountable for a staff of nearly 200 employees, located in three different sites including Scranton, Pennsylvania, Dubuque, Iowa and Hartford, Connecticut.
By 2007 Unvarsky joined the Institutional Income Innovation team as Senior Vice President, Operations, and is currently responsible for developing and executing a plan for building a service and operations model to support a new line of retirement income products. She has represented Prudential on numerous industry fronts in this role, including a September, 2010 joint hearing/testimony in Washington D.C. of the Department of Labor, Department of Treasury and the IRS. This testimony is part of a larger effort to influence changes in the law to make it easier for Americans to retire with more financial security.
Unvarsky obtained her Master of Science degree in Banking and Financial Services from Boston University in May of 2010. She has also served as Prudential Retirement's Executive Sponsor for the Women's Leadership Forum for the past 3 years, and frequently speaks (internally and externally) on topics related to leadership, women's financial security issues and other related topics.
"If I had to do it again, I would do it the exact same way. LCCC helped to prepare me for future educational, as well as career experiences by making it 'real'."