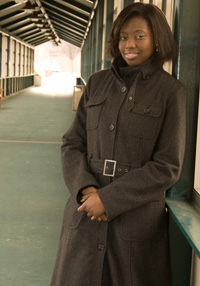 Around the world and back again
Belinda Coulibaly, age 19, has experienced two different worlds.
Born in Manhattan, Kansas, Coulibaly grew up here in America until age four. That's when her parents decided to move back to their homeland of the Ivory Coast in West Africa. After growing up learning how to speak in English, she now had to learn how to speak the country's official language, French.
"My father was offered a job teaching back in the Ivory Coast in the Math and Biology Department in the University there, so we moved back," Coulibaly says. "I had to learn a whole new language and adapt to a new culture."
Coulibaly notes that family is one of the important aspects of Ivorian culture. "In the Ivory Coast, I spend a great deal of time with my family and extended family," she says. "Almost every meal and activity is shared as a family." The oldest of five children, Coulibaly takes on the role of a leader very seriously. "I want to be successful to help guide my siblings in the right path."
After 13 years in Ivory Coast, West Africa, Coulibaly's father encouraged her to visit the United States to see where she was born. So, in 2008, she returned to the United States to stay with her aunt, uncle and their kids, and enrolled at G.A.R. Memorial High School in Wilkes-Barre. "I took a lot of ESL classes to learn English again," she states.
"After my high school graduation, my uncle was driving his car when a radio commercial for Luzerne County Community College came on. The same night, my uncle told me LCCC was a good college and that I should apply there to attend school."
Coulibaly enrolled at LCCC in the Fall of 2009. She chose to pursue a degree in Business Administration. "I chose to major in Business administration because I would like to take up some courses of International Business when I transfer to a four year school."
Her favorite class so far has been Business Law. "I definitely see myself using the information I learned in my classes in my future career."
Although gifted academically, Coulibaly has become highly involved in student activities at LCCC. She was a member of the Business Club, secretary of the Brothers and Sisters in Christ club, and is also the secretary of the Student Government Association.
LCCC President Tom Leary invited Coulibaly to be the student representative to the Board of Trustees. "I enjoy being the voice of the students to the Board. It is a great experience to learn to be a leader from the Trustees, faculty, and students."
Coulibaly says she would like to work in the banking industry to help invest money in community projects such as the construction of schools, hospitals, and other local social endeavors. She would like to stay in the United States for a while to build up experience in the field, but eventually is interested in traveling to Europe. "I would like to work with embassies and do banking management work," Coulibaly says.
Once she graduates in May 2011, Coulibaly plans to continue her education at a four-year college or university, but says LCCC will always be special to her.
"At Luzerne, you don't just learn from reading a book, you experience learning."