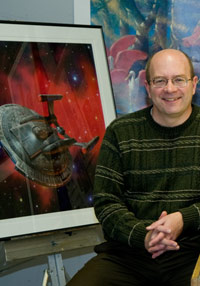 Not So Starving Artist
In his heart Chris White '77 knew he wanted to create art.
White developed his interest in art from his father, an avid sketcher. After graduating from the former Bishop Hoban High School in 1975, White chose art over the other fields of study he considered. To hone his skill, he looked at Luzerne County Community College and found everything he was looking for: a strong commercial art program, close to home, and the value of attending the community college.
"I was able to pay for LCCC on my own and not have any debt when I graduated," said White.
During his time at LCCC, White appreciated the quality of the instructors and enjoyed the camaraderie and friendly competitiveness in the art classes. Some of his favorite classes were illustration classes and a speech class. He smiles as re recalls a speech entitled, "What is Comedy?" which at the end he received a pie in his face from a friend and fellow art classmate.
White speaks fondly of favorite art department teachers like George Schelling and Bob Kray who "directly influenced my forays into wildlife and marine art." The chairperson at the art department during White's time at the College was Howard Purcell. White describes him as "a genuine, animated, likable guy." It turns out that Purcell was the illustrator of comic books that both White and his father had. White also gives credit to recently retired faculty and department chair, Sue Henry Sponenberg. "She was the strictest teacher in the art department and she didn't put up with my crap," says White, "but I learned solid design and color theory from her." White graduated cum laude in 1977 with an associate arts degree in Commercial Art.
As a civilian, White is employed by the United States Army. He is currently working on a memorial for two men who lost their lives in the line of duty. He is also directing a cover for a nationally distributed scientific magazine, designing eight conceptual illustrations of an Unmanned Ground Vehicle (UGV) testing Center, and creating visuals illustrating Base Re-Alignment and Closure (BRAC) options for Aberdeen Proving Ground.
On the freelance side, White is working on two separate projects for clients which include two wildlife illustrations and a 3-D cover concept. He has also created paintings for the Maryland Department of Natural Resources, a cover for "MAD" magazine, and a commissioned piece for the American Fisheries Society.
In his career, he creates 3-D animation and conceptual illustrations, along with video, publication design and exhibit design. "It's all pretty interesting and satisfying," adds White.
The artist, who now lives in Port Deposit, Maryland, recently dropped off his "Three Stooges" illustration and two of his other favorite works to include in a faculty and alumni art exhibit at LCCC?s Schulman Gallery.
While at LCCC, he reconnected with some of his mentors and spoke with LCCC students. White has the following advice to those who want to enter into an art career. "Ask yourself honestly do you have what it takes and if so, are you willing to do what it takes to fill the areas where you are lacking. Hard work, determination and practice can do wonders!"
He also says, "Don't let the stereotype of 'starving artist' undermine you. There are many ways a creative person can find fulfillment and be gainfully employed, whether self-employed or for someone else."
By Melissa Taney '03