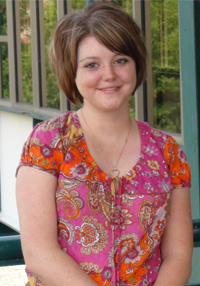 Inspiration from the heart
Journalism major, Katie Tobias, is late once again to her 9am copy editing class. This isn't the first time and most definitely won't be the last time she wanders into class almost an hour late.
Tobias is a 23-year-old writer and artist who was diagnosed with pulmonary hypertension (PH) in September of 2006. PH is when the body doesn't get enough oxygen because the blood vessels in the lungs are constricted. This makes it harder for the heart to pump enough blood to the lungs to get oxygen to the rest of body. Over time, the heart becomes enlarged and weakened from overwork.
"The analogy I was given was to picture the amount of water that can fit through a garden hose, and imagine that amount of water passing through a drinking straw. That's what the heart is trying to do," says Tobias. "There is no cure. There are a couple medications on the market, but the end result for every patient is a double lung transplant."
Tobias began attending Luzerne County Community College in summer 2009. She started by participating in online courses, but now she travels to the campus from her home in Swoyersville, PA.
According to Tobias, on the bad days, even walking a little bit makes her out of breath. For her, being able to go to class is a bit of a slap in the face; she should be able to go to class like the rest of her fellow students. Sometimes, unfortunately, she can't get off the couch and there is nothing she can do about it.
"The professors here have been very supportive," Tobias says. "It's hard not being able to be here all the time, much less get here promptly."
Since discovering her diagnosis, Tobias has been on a long obstacle-filled journey to achieve her goals. Unlike some of the students her age that attend LCCC who are able to take a full course load of classes, Tobias can only take two or three a semester. Even those two or three classes can be an uphill battle to get to. She claims that even if it takes her six years, she will finish her degree.
Tobias doesn't let her illness get the best of her. She is a columnist for Pathlight, a publication that helps individuals with PH live as normal a life as they can. Her column, "Generation Hope" is geared toward people aged 18-30. According to her bio on the magazine's website, Tobias gives advice on love and dating, going to college, achieving your dreams, and learning to be a "new you."
In the early days of her diagnosis, Tobias struggled with the prospect of "knocking on death's door." She took a year off after high school, due to severe depression and anger towards her condition. During that year, Tobias sought counseling and leaned on her family and friends for support. Once she gained her bearings, Tobias found her passion for art once again and went to Marywood University in Scranton to study Art Therapy.
She was only able to study for three years. The chemicals in the art supplies she used to work with worsened her condition and Tobias decided to instead indulge her passion for writing.
"I came to LCCC because it's very cost effective. I wasn't sure what I wanted to do exactly, and I could go at my own pace to complete my classes and get my degree," Tobias says.
Along with writing for Pathlight, Tobias also volunteers at the Pulmonary Hypertension Association. Although the disease is more common in older patients, Tobias is there to inspire the small group of patients within her age range and to keep from feeling so isolated.
"Living with a rare life-threatening illness is difficult in its own right. But fighting for your life at a young age, when your biggest concern should be what to wear for that hot date on Friday, is beyond words," says Tobias.
She is still fighting PH and inspiring others along the way. Currently, her new art exhibit, full of hidden messages and intense emotions, is making its way around Northeast Pennsylvania. Her works are displayed at Outrageous, a coffee shop in Shavertown, PA.
"It's a month long art exhibit," says Tobias. "Most of the pieces are for sale. It's mainly mixed media, collage, painting, and some others. If you know my story, you can see the symbolism," she adds.
Even with all of the odds stacked against her, Tobias managed to finish the spring semester at LCCC on a good note. She continues to push forward as is returning for the fall 2010 semester to continue her major in Journalism Communications.
By Nadia A. Saar