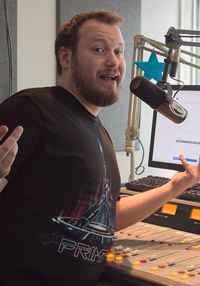 Call to the Airwaves
When 33-year-old Adam Sieminski '05 enrolled at Luzerne County Community College, he wasn't sure where he'd end up on graduation day. "I came to LCCC to figure myself out and what I wanted to do," he says.
As a graduate of Crestwood high school, Sieminski began as a marketing major, then one day his true calling was showcased.
Sieminski was in an accounting class and someone asked him to fill in for a radio show on WSFX, LCCC's student run radio station. "That day I changed my major to Broadcast Communications," he recalled with a smile. He was able to showcase his newfound talent on the station found at 89.1 and 105.5 FM.
Sieminski, who is now known as "Lazy E" on Wilkes-Barre/Scranton radio station 97.9x credits LCCC for giving him the initiative needed to score his dream job. When he started his internship at 97.9x in 2004, he says it was "boring stuff" such as filing papers and loading music. However, when his time came to an end at the station, he "never went away."
After Sieminski graduated from LCCC in 2005, he says he started working part-time at the radio station where his potential was quickly noticed. He started working with the Kidd Kraddick morning show. This is a nationally syndicated radio show that is broadcast into the Wilkes-Barre station. Shortly after, he started producing promos for the show, which caught the attention of Kraddick himself in Dallas, Texas. "I was then offered a position of a lifetime and made the big choice to move to Texas in 2011. He was going to work with one of the best morning show hosts."
"It was one of the coolest experiences," he says. "The things I've learned from him (Kraddick) are incredible."
While Sieminski moved back to Northeast PA in 2012 for family reasons, he was happy to come back to the station he'd left.
"Even though I had a job coming out of LCCC, the media field is tough to get into," he advised current students. "However, the people with passion always find a way."
Although Luzerne County Community College is in the books for Lazy E, the professors he experienced have made an impact that will stick with him throughout his radio career.
"Ron Reino and Ed Ackerman were really influential to me," he says with a smile. "Ron got me excited about radio and taught me so much, while Ed taught me about life."
While LCCC has made a lasting impact on Sieminski, he shares some advice for current and future students.
"Soak it up...soak everything in...the people you meet...because you never know where it will lead you."
By Cami Kyttle '17 Audio Visual Communications